Some of the links in this article are "affiliate links", a link with a special tracking code. This means if you click on an affiliate link and purchase the item, we will receive an affiliate commission.
Unless otherwise stated, blogs are from pre-COVID-19 pandemic and restrictions. All information subject to change
2017 marks the 10th annual Traveler's Conference, commonly referred to as TravCon, which is an annual conference for the traveling healthcare industry.  TravCon 2017 is going to be held on September 17-19 at Bally's in Las Vegas.  The Traveler's Conference is a place to learn about the travel healthcare industry and network with others. Here are my top reasons why you should go to TravCon2017:
1.Networking
Have you ever wanted to: Meet your recruiter in person?  Meet the people you see in online groups in REAL life? Meet a new travel companion or friend for life? 
The Traveler's Conference is the perfect place to make all of this happen.  There are around 1000 participants in TravCon that represent the agency and traveler side of the industry.  You are surrounded by these individuals from morning to night and have the chance to network and talk about the travel industry. You will have the opportunity to meet recruiters as well as other travelers and leaders in the travel healthcare field.
Personally, I have met some of my best friends at TravCon and we use TravCon as a yearly reunion to reconnect.
2. Education
The days at TravCon are filled with educational seminars related to travel healthcare. Joe Smith from Traveltax.com speaks practically all day in regards to tax issues: tax homes, per diems, multi-state taxes, etc.  Other seminars have included negotiating and working with multiple recruiters, financial planning, understanding contracts, medical Spanish, volunteering opportunities, and destination reports (such as Virgin Islands, Hawaii, Alaska).
Classes can be reported for continuing education credit with a minimal amount of paperwork.
3. ZDogg MD
Dr. Zubin Damania aka ZDogg MD is one of my favorite people to follow on social media and is going to be the Keynote speaker at TravCon 2017.  ZDogg is a physician and "off-white rapper" who is sharing his mission to transform healthcare through social media and parody songs. Hopefully, he will rap this one…
4. The After Party at Drai's
The after-party, which happens the last day of the conference, has become quite iconic and for good reasons.  TravCon rents out an entire rooftop bar and the sponsoring agencies pay for food, drinks, and a DJ as everybody dances the night away.  The 2017 party is going to be at Drai's; a beautiful venue with amazing views of the strip.  The space is half indoors, half outdoors, and has an immense dance floor, pool, and cabanas outside.
5. Free Pens for a Year
The exhibit hall at TravCon is filled with booths that have many freebies and giveaways. The amount of free swag that you can get is endless.  Last year I got free Bluetooth speakers, mobile chargers, a selfie stick, sunglasses, bags, candy, massages (Yes I got a shoulder and foot rub!) and pens for days.  Remember to leave extra space in your luggage for bringing all of that free swag back home.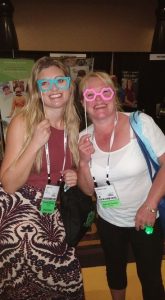 6. Big Bang for Your Buck
The registration cost of The Traveler's Conference is highly subsidized thanks to the sponsoring agencies.  While the price for 2017 has not been released to date; past prices were in the $100 range.  The price of registration includes seminars, admission to the exhibit hall with freebies, 2 meals a day (breakfast and lunch), and the after-party.
7. Vegas, enough said
Las Vegas is one of the top tourist destinations in the US and is the perfect place for TravCon.  In between events you can walk the strip, eat at world-class restaurants, see the iconic sites, or go shopping. You can zipline down Freemont Street or view the street art in the Arts District downtown. Extend your trip and take a hike to Red Rocks or the Grand Canyon or take a day hike to Mount Charleston.  Vegas has it all.
Did I convince you to register for The Traveler's Conference yet?  Registration is now open!  Follow for more details here: https://travelersconference.com
More Posts on TravCon:
Free E-Book & Newsletter
Subscribe to get our latest content by email and a free download of The Beginner's Guide to Travel Healthcare