A frequent question I get asked by travel nurses, travel therapists, and travelers of all kinds is what is the best island to visit in Hawaii for the first time. When I went to Hawaii for the first time, it was to work a travel therapy assignment in Honolulu, Oahu. I didn't have a choice in the matter of where I went, I was mostly ecstatic to get a job offer somewhere in Hawaii. Since then, I've traveled to all of the major islands (Oahu, Maui, Big Island, and Kauai) and can offer insight on what is the best island to visit in Hawaii for the first time for a Hawaiian getaway.
The Best Island to Visit in Hawaii for The First Time
This comes down to you and what you're looking for in a vacation. Oahu has a bit of it all, including world-class nightlife, dining, and hotels. Maui and The Big Island offer a more laid-back escape, while Kauai, with its lush beauty, is a nature lover's dream.
Read on to learn more about what each of the main islands has to offer and if it's for you.
Oahu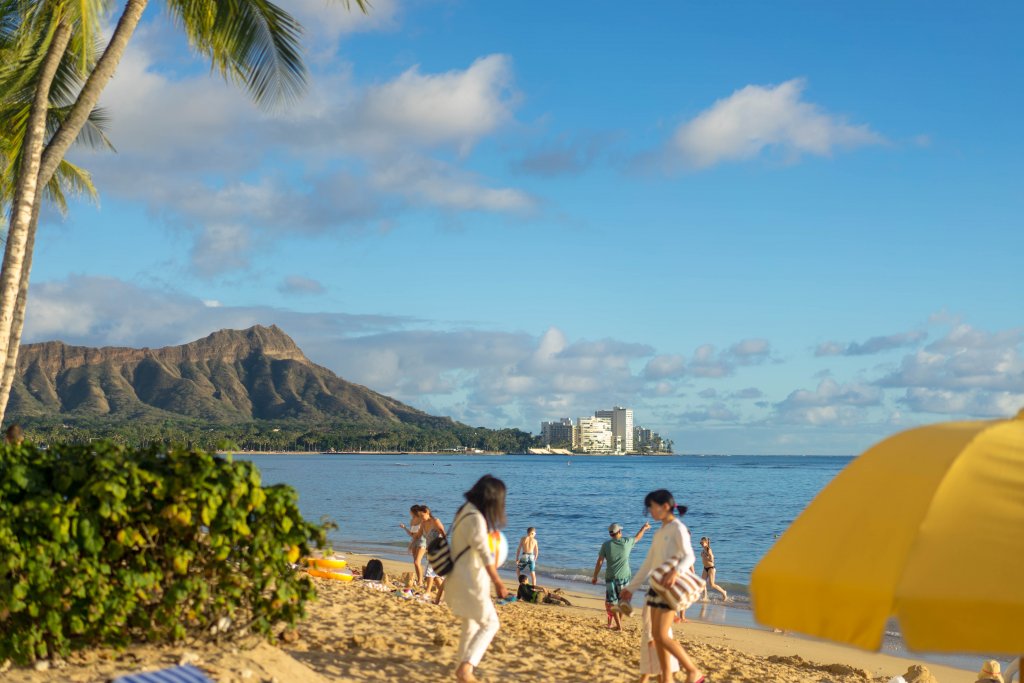 When it comes to experiencing the beauty and culture of Hawaii for the first time, Oahu is the perfect choice. This stunning island, also known as "The Gathering Place," offers a unique blend of natural wonders, vibrant city life, and rich history that makes it an ideal introduction to Hawaii. Oahu is a perfect choice for your first time in Hawaii as it offers a blend of everything.
First and foremost, Oahu boasts some of the most iconic and easily accessible Hawaiian attractions. Honolulu, the capital city, is located on Oahu, making it a hub for flights. The airport is also easily accessible by taxis, shuttles, and Uber/Lyft. There is an array of hotels at different price points, an abundance of restaurants, and nightlife until 4 a.m.
Waikiki Beach, with its famous two-mile stretch of white sands and gentle waves, is an ideal place for new visitors to try surfing or simply relax by the shore. Overlooking Waikiki Beach is Diamond Head, an ancient volcanic crater, that offers a hike with panoramic views of the island.
Major attractions in Oahu Include:
Read More: The 35 Best Things to Do On Oahu
Maui
Maui is an absolute paradise and a top pick for an unforgettable Hawaiian adventure. This island, known as the "Valley Isle," boasts a perfect blend of natural beauty, culture, and activities that make it an ideal starting point for your first Hawaiian trip.
Maui is the second largest island in Hawaii and you'll find it's more relaxed and less urban than Oahu.
Must See's In Maui
Maui has it all. The island's welcoming atmosphere, friendly locals, and breathtaking scenery will undoubtedly make your first Hawaiian experience one to remember.
Hawaii Island: The Big Island
Hawaii Island, also known as The Big Island, is vast and diverse, providing a bit of everything Hawaii has to offer. It's the only island with active volcanoes. Yes, there is not one, but 2 active volcanoes including Kilauea, the world's most active volcano, which is frequently erupting.
The Big Island is more rural compared to Oahu and Maui. It boasts a lot of lush rainforests and waterfalls, especially on Hilo, the wet side of the island.
Popular Places to Visit on The Big Island
The Big Island's unique blend of geological wonders, cultural diversity, and an array of outdoor activities make it an ideal first choice for experiencing the beauty and magic of Hawaii. You'll be greeted with a warm aloha spirit and have an unforgettable introduction to the Hawaiian Islands.
Kauai 
Kauai, the "Garden Isle," is an excellent starting point for nature lovers who want a relaxing escape. This pristine island offers a unique blend of natural beauty and tranquility that sets the perfect tone for your Hawaiian experience.
Highlights in Kauai
Kauai, in my opinion, is the sleepiest of all of the islands. It's common for restaurants and stores to close by sunset or shortly after. This isn't the place to visit if you want a nightlife scene or late-night eats. It's an early-to-bed, early-to-rise type of environment.
What's The Best Island to Visit In Hawaii for The First Time as a Healthcare Traveler?
If you're a traveling nurse or therapist, I strongly recommend perusing my Ultimate Guide to Travel Nursing and Therapy in Hawaii. This guide provides detailed insights into the healthcare systems on each island.
In a nutshell, the Ultimate Guide to Travel Nursing and Therapy in Hawaii highlights Oahu as my top choice for new travel nurses and therapists. Oahu offers a diverse blend of amenities, and depending on your workplace, you can conveniently use public transportation, eliminating the need for a car rental. The island's hospitals closely resemble those on the mainland, distinguishing it from other Hawaiian islands, many of which feature critical access facilities.
Oahu also boasts a thriving community of healthcare travelers and an abundance of furnished rental options, making it a seamless and community-oriented place to start your journey.
Another favored destination among healthcare professionals seeking a more relaxed lifestyle is The Big Island, with Hilo being a specific hotspot. Hilo Medical Center typically maintains a balanced staff ratio, with about 50% permanent staff and 50% travelers. This fosters a strong and supportive traveler community. Moreover, Hilo stands out as an affordable housing option in comparison to other Hawaiian towns, offering a laid-back work environment that complements the island's serene atmosphere.
Conclusions
The best island to visit in Hawaii for the first time depends on what you're looking for. Oahu is a great place that offers a little bit of everything Hawaii has to offer. Maui and The Big Island are good if you want a little more adventure and a little less city life. Kauai is the spot for you if you want to detach and be more with nature. No matter where you go, you won't make a bad decision in Hawaii.