Some of the links in this article are "affiliate links", a link with a special tracking code. This means if you click on an affiliate link and purchase the item, we will receive a commission.
Oahu is filled with beautiful hikes and waterfalls! While you can spend hours following streams and chasing waterfalls (insert TLC lyrics), there are many relatively well-marked hikes that will take you to some beautiful falls. After living on Oahu for several years, these are the best waterfall hikes on Oahu that I recommend to travelers visiting on the island.
As you read this blog, I have the trails listed by level of difficulty, from easy to strenuous.
If you're a novice hiker, Manoa Falls is definitely a great place to start. If you feel comfortable on that trail, then you may want to consider advancing to some of the others.
Note of caution: These hikes are all in lush, green, and rainy areas of Oahu. Please hike with caution. The trails can be muddy and slick. Therefore, wear appropriate shoes. Also, don't forget bug repellant, drinking water, and other essential hiking gear.
Manoa Falls
The 1.5-mile Manoa Falls hike takes you through the jungle and lands you at the foot of a beautiful 150-foot waterfall.
Manoa Falls is one of the most popular hikes on Oahu and for good reasons.
There is easy parking ($5/car)
A well-marked trail
An easy path to get to a beautiful waterfall. 
Because Manoa Falls is so great of a hike, it does tend to get very crowded.
Expect to have a very busy trail and come across a lot of other hikers. This is not a hike for somebody who wants to be alone in nature.
Manoa also tends to be very wet and rainy, so prepare for a lot of mud and potential rain. Waterproof shoes and clothes are always a plus on this one!
Note: When you are at Manoa Falls and look at the very top of the falls, it's not uncommon to see and hear people at the top of the falls. There is actually a series of waterfalls that run above Manoa Falls. The waterfall directly above Manoa is a popular one for its beautiful view. Upper Manoa Falls is known for its infinite-like pool that overlooks the valley below.
However, hiker beware! The trail to the top of Manoa Falls is very dangerous! You need to scale the side of a wall that is often wet and does not have the best handholds or ropes to help you get to the top. If you're not hiking with somebody who is experienced on that trail, and not an experienced hiker yourself, I would not recommend attempting to locate the top of the falls.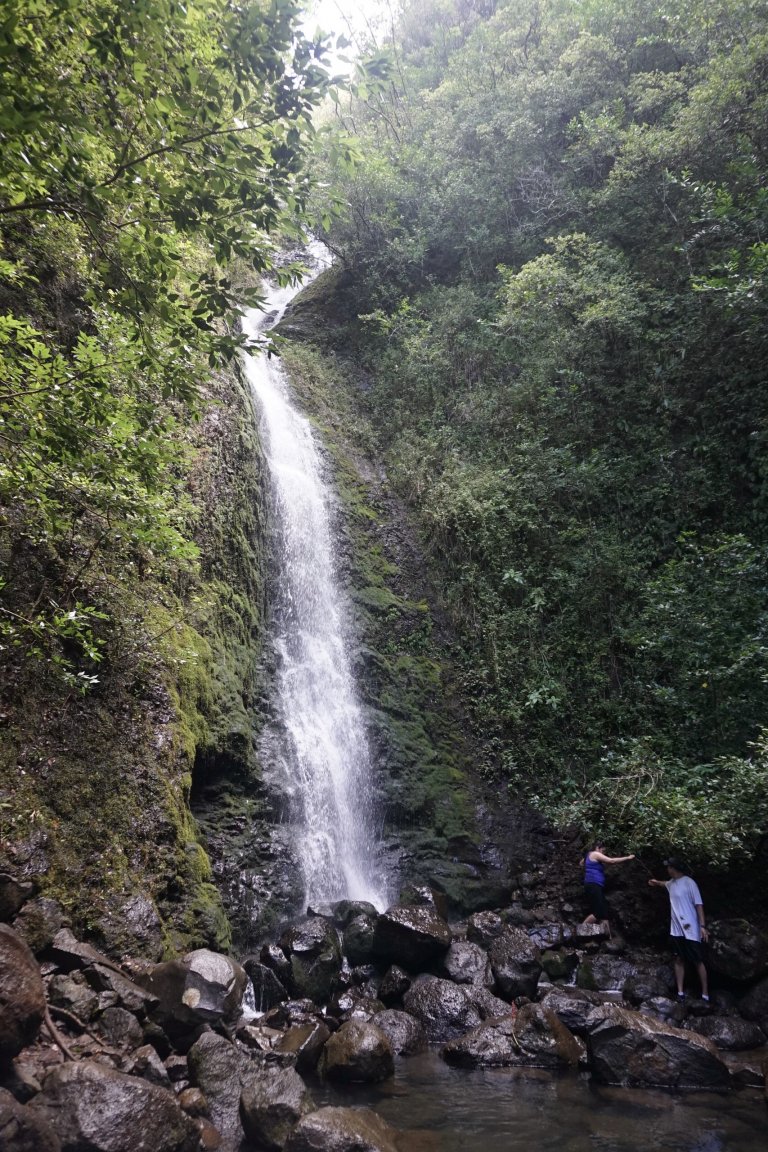 Maunawili Falls
Main trailhead closed for repairs as of July 2021
Cliff jump from the side of a waterfall into a beautiful pool of water!
Maunawili Falls is a 3.5-mile hike in Kailua that has beautiful jungle views, a view of the Koolau Mountains, and ends at a fun and cool waterfall.
This trail is rated moderate intensity. You will be hiking over tree roots, through a lot of mud, and you will have to cross a river several times to reach the falls and pool.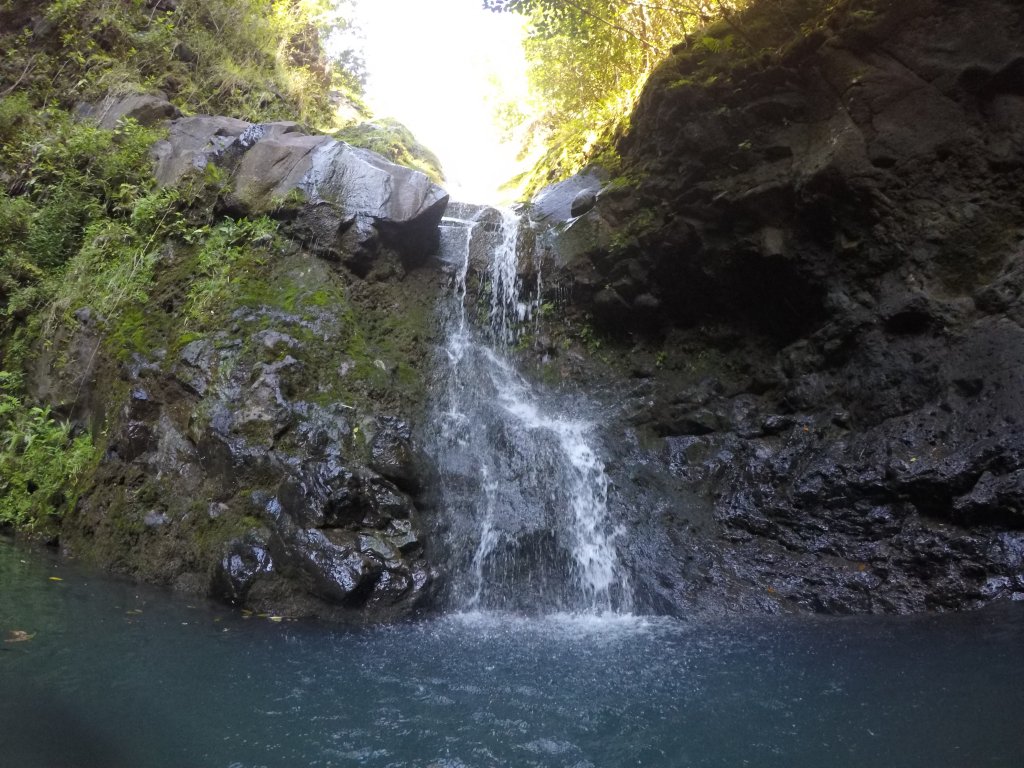 Waimano Falls
Multiple waterfalls with pools of water and a rope swing overhead!
The waterfalls at Waimano Falls feel like an adult playground. Waimano Falls is a slightly longer trail, coming in at 3.5 miles and takes more cardio endurance to complete.
This waterfall is in a valley. You begin the hike by descending down into the valley. Coming back out, you will notice the burn as you climb back to the road. You will feel the burn as you climb up an incline of stairs made out of tree vines that takes you out of the valley.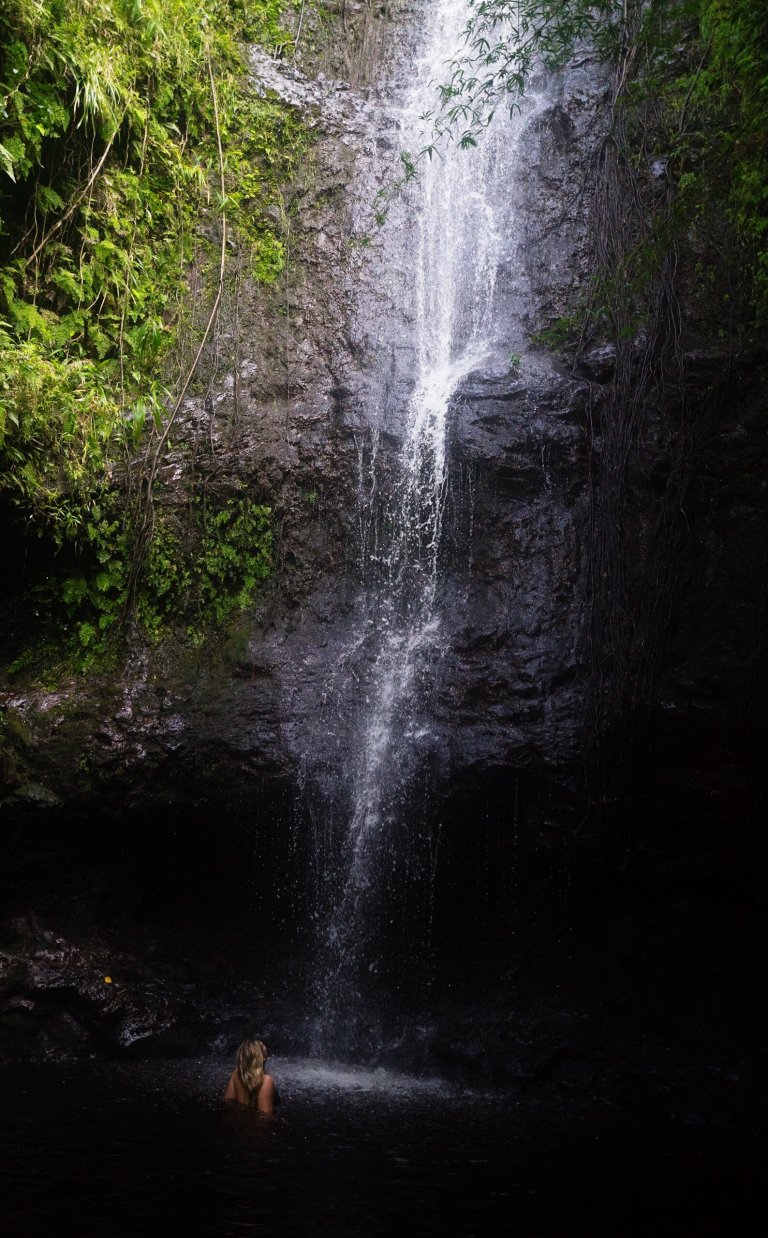 Ka'au Crater
This epic three-waterfalls hike takes you on a 360-degree tour of Oahu, literally.
While Ka'au Crater is one of my favorite hikes, it is also one of the most strenuous and dangerous. It is easy to get lost on this trail, and even miss some of the waterfalls.
This hike is NOT for novice hikers. 
If you're up for the challenge, Ka'au Crater starts with a lush hike through the Paloma Valley, following a water pipeline. You'll have to cross a stream a couple of times to follow the trail. When the pipe ends, you'll find the first waterfall, which is a bit of a hidden pool, and falls that are comfortable for swimming and lounging.
The first falls are a nice place to stop and rest. Then, the next falls are practically above the first and are wider in the base and much larger.
Then, to continue the trail, you need to scale the side of the third waterfall. There is rope available, but hiker beware, it's a couple of hundred yards to the top of the falls.
When you get to the top of the third waterfall, you can see the actual crater of Ka'au. At this point, you can follow the trail back down, or hike the rim of the crater for some gorgeous 360-degree views of Oahu!
I hope this post helped you chase some waterfalls on Oahu!
Please add any of your other favorite waterfalls to the comments.