If you landed on this website because you want to become a travel therapist, you have come to the right place! This website, The Traveling Traveler, was founded by me, Julia Kuhn, a travel therapist. I began my career in 2010 with a yearning to travel the country and experience new places. Now, after years of travel and learning the ins and outs of the industry, I am here to teach you how to do the same.
How to become a travel therapist is not an easy question to answer. In fact, I produced a course with over six hours' worth of material to answer this question in depth. I also believe that there is not a right or wrong way to learn how to travel and experience your travel journey. Each travel therapist's journey is unique, which is why I always recommend starting by thinking about why you want to be a travel therapist.
How to Get Started as a Travel Therapist
Getting started as a traveling therapist can vary for each individual. Some people may want to jump right in and take a job as soon as possible. Others might want to be more strategic and plan more in advance.
Here are some basics that I recommend for getting started in travel therapy:
Have clear goals for why you want to travel and what you want to experience.
Understand how therapists get placed in jobs through agencies.
Understand how reimbursement works.
Know the basics on how to find housing.

More reads to get started:
Wait, what is travel therapy?
When I say travel therapy, I'm referring to the industry that places physical, occupational, and speech therapists in short-term contracts across the United States. Generally, these contracts are 13 weeks at a time. Travel therapy jobs can be anywhere and everywhere in all 50 states, even Alaska and Hawai'i. Travel therapy contracts can be in schools, outpatient clinics, hospitals, home health, rehabs, skilled-nursing facilities, and long-term care facilities.
Travelers are needed to fill immediate staffing needs. These staffing needs might be caused by chronic difficulty maintaining staff due to a variety of factors, or it could be more of a short term need, such as a need to cover a maternity leave or family medical leave of absence.
As a travel therapist, you are temporary help who is going into a building that may desperately need you. You are generally expected to do your job with little to no training and be efficient from the beginning.
At the end of 13 weeks, there might be an opportunity to extend your contract for longer, or you may be looking for a new position.
First Up: Make Your Travel Therapy Goals
Whether you are a novice traveler or somebody who has been traveling for years and years, I think it's important to have clear goals and understand why you are traveling. Being a travel therapist is not easy. In fact, it can be a stressful lifestyle that can strain relationships and mental health, and even cause financial difficulties. Before you travel, really think about your why and if travel is for you.
If your goal is to travel for money…
Many travelers take contracts because the jobs pay better than work at their home location. They may travel for a set period of time to pay off a bill or save money for a large purchase. To these travelers, I say "proceed with caution."
The travel therapy job market is just that, a market. It fluctuates and relies heavily on supply and demand. Sometimes, there are a lot of jobs for a few therapists, and pay rates may be great! Other times, many therapists might be competing for the same positions, and pay rates can drop.
In times of low job markets, clinicians may go for long periods of time without work. Unlike perm positions, there is no paid time off with travel, and when you don't work, you don't get paid. Unemployment can also be difficult to get as a traveler who works in multiple states.
While many therapists have used travel contracts to pay off student loans, put down a downpayment on a mortgage, or find other financial freedom, there are others who have struggled financially due to lack of work or the instability of contracts.
If you want to travel for experience in new work settings
I meet a lot of travelers who want change. They are looking for a new job, a new experience, and a new challenge clinically. They want to become a traveling therapist to work in new settings. I think that can be harder for some versus others and it helps to be flexible with locations. If you have previous experience in a setting, I think you could be a candidate for a travel position, pending who you are competing against for the job. Some facilities in places that are harder to staff (like rural areas) might be more likely to take somebody with no experience and train them on the position.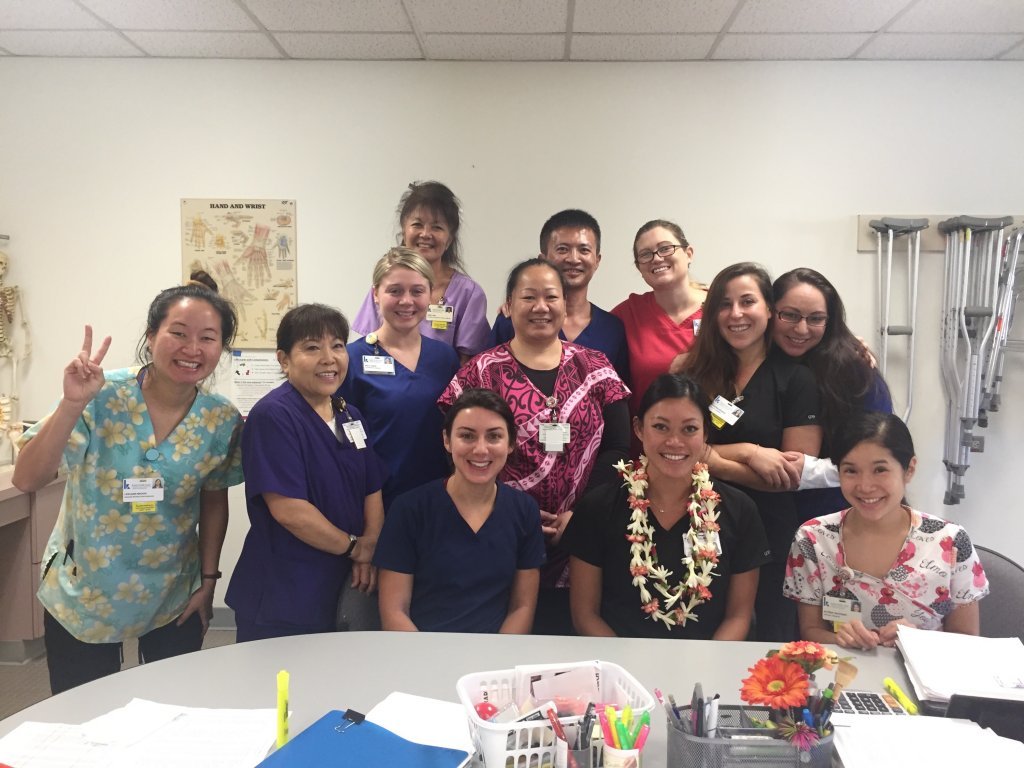 Travel for the journey!
If you want to travel just to travel, join the ride! I think that the travelers who come in with open minds and are open to different locations and experiences tend to be some of the happiest in the long term.
Here are some examples of things that happened on my travel journey:
Worked in 5 states (HI, CA, TX, CT, & MA)
Went from a SNF only therapist to working in acute care, inpatient rehab, and home health
Traveled to over 15 countries while I wasn't working for fun!
Now, how do you get a job as a travel therapist?
Travel therapists primarily get jobs from intermediary staffing agencies. Clinics, rehabs, schools, etc. will contract with these staffing agencies directly, or through vendors, to list employment opportunities, and those agencies will in turn find talent to bring on to staff those positions.
So when you are looking for jobs, you need to get verified to apply for jobs through a staffing agency. Each individual agency will want to run their own application process, background checks, etc. to ensure you are a qualified candidate to submit to positions.
Now, this is important, you do not have to be exclusive to one agency. You can apply and get verified for job submission by multiple agencies. This can work for your benefit since different agencies may have different job opportunities.
In Case this sounds confusing, here is a breakdown of the steps…
How To Get a Job as a Travel Therapist
Identify a travel agency you want to work for.
Connect with a job recruiter from that agency to represent you and connect you with jobs.
Complete the application process to verify you are a credentialed therapist and a job candidate. This can include background checks, reference calls, submitting your licenses, etc.
Be licensed in the state where you are applying for a job, or be able to obtain licensure ASAP.
When you are verified, your recruiter can tell you about jobs and submit you to a position, if you are interested.
Once submitted for a job, you will be contacted for a phone interview if the position is interested in learning more about you.
If you get the job, it will be offered through your agency.
Once you get a job, you will have to go through further onboarding to prepare you for the job. This can include TB testing, drug testing, online course modules, fit mask testing, physicals, etc.
Finally, when you get through all of that, you can start a job only to have to go through the steps all over again in a couple of months to find your next job.
A note about travel therapy contracts
As a traveler, you are a freelancer working for staffing agencies. You won't get paid when you are not working and you will only receive minimal benefits packages. You are also at the mercy of your contracts, which tend to favor the facility over the travel therapist, unfortunately. Most contracts have clauses that state you can be terminated from a position immediately if you are not proficient at doing your job. Or, you can be given notice (generally a 2-4 week notice) for any reason at any time.
For these reasons, I always urge therapists considering travel to be very aware of their financial situation. Our jobs are far from stable and can end at any time. I highly recommend having an emergency fund of money set aside to help weather a bad financial situation that you could encounter.
Understanding Travel Therapy Pay
Pay as a travel therapist can be quite different from what you are used to seeing. Instead of receiving a salaried or hourly rate, you will see your paycheck broken into different payment amounts.
Generally, you have two main portions of your weekly pay. You have an hourly rate that is taxed, and then an untaxed stipend amount. You receive the untaxed stipend because you are incurring expenses for work by being on the road. The tax-free portion is for lodging, travel, and incidentals.
In addition to your paychecks, you may also receive reimbursements at the beginning or end of your assignments for travel to and from your assignment, or any licensure reimbursement that you asked for.
To learn more about travel therapist pay check out this article: Understanding Travel Therapy Pay Rates
Here is the important thing to understand about travel therapy pay:
Everything is based upon the rate that your contract location is paying for you to work. Pay rates are set by the place you are working, not the agency you are working for.
So, if a building offers a pay rate of $65/hour, your agency will first deduct a percentage of that right away to cover their expenses and profit for the contract.
Agencies use their portion of the bill rate to pay for things like:
Operating costs of the staff and office
Contribution to your health insurance and 401k benefits
Payments to social security and unemployment
Premiums for workman's compensation and liability insurance for workers
NEXT, they may put a portion of the money aside to cover your moving reimbursement or licensure expenses.
Then, whatever is left of that money, they will split into a taxed rate and an untaxed rate.
Finally, when you are looking at the pay rate, you may be confused because it shows a taxed hourly rate of $24/hour, which is low for a therapist. This is because you are also receiving an untaxed amount of the equivalent of $22/hour AND reimbursements for travel. You combine your taxed rate and untaxed rate to get your blended pay rate for the assignment.
In this section, I want your take-away to be that nothing is "free" in travel and that all of the money and reimbursements come from somewhere in your pay package. A single number, e.g. $65/hour x 40 hours/week x 13 weeks will be the amount that the agency is working with to pay you all of your money, and also keep the agency afloat and pay them.
If you have questions on the nitty-gritty about pay or understanding if you qualify for these reimbursements and tax-free money, I highly recommend first of all learning about a tax home and then reviewing the FAQ page on www.traveltax.com
Finding Housing as a Travel Therapist
It is a constant struggle of travel therapists to find housing. Temporary housing can be expensive and difficult to locate. Agencies may offer some assistance to help you find housing, but you are generally on your own to find and secure housing.
Some agencies may advertise "free housing." As mentioned above, nothing is free in travel. If an agency provides housing to you, they will deduct the cost from your overall pay package and your taxed pay rate will reflect that deduction. Generally I find that, economically, it is better to find your own housing, although it can be difficult to do.
My most basic advice when finding housing is to go through a website that verifies their listings and acts as an intermediary between the traveler and host, such as Airbnb, Furnished Finders, and VBRO. Extended Stay America and other long-term stay hotel chains also are comfortable accommodations for travelers.
Other places that are also good for housing, but take a little more caution, include Facebook Marketplace for the area you are working in, online Facebook groups for the area you are moving to, and Craigslist. Since these platforms do not verify the listings posted, they are more prone to scams.
Read more about housing
Finally, work and repeat
There is a lot of repetition in the world of travel therapy. Just when you think you have a routine and are settled, it's off to your next assignment. Thirteen weeks goes by a lot faster than you realize! Sometimes you just need a break. One of the nice things about travel is that you can work when you want to. If you can financially afford it, you can take a month off in between contracts to relax or travel the world. Or, you can hop right to your next job.
If you truly want to dive into the world of travel and become an expert of your own, I highly recommend enrolling in my signature course, The Guide to Travel Therapy.
Remember, travel is what you make it!
Enjoy your journey and make it yours!