Some of the links in this article are "affiliate links", a link with a special tracking code. This means if you click on an affiliate link and purchase the item, we will receive a commission.
Hawaii upheld some of the strictest travel restrictions in the US during the pandemic. As of this blog writing on June 25, 2021, anybody entering the state of Hawaii needs to submit to a mandatory 10- day quarantine. You can skip the quarantine if you have an exemption. Exemptions include a negative COVID test 72 hours before entering the state. However, this restriction is easing up with a new Hawaii vaccine passport!
Starting on June 15, 2021, Hawaii residents who were fully vaccinated with at least one shot performed in the state of Hawaii, were allowed to use proof of a vaccine, as a quarantine exemption. 
Now, starting July 8, 2021, all US residents with a vaccine can apply for vaccine exemption while traveling to the state of Hawaii. 
As a resident who was vaccinated in the state, I have already traveled and entered Hawaii using the vaccine passport and I'm here to share my experience to help you. 
Here are the 4 steps for using the Hawaii Vaccine Passport:
Add a trip to Hawaii Safe Travels
Apply for quarantine exemption
Fill out your health questionnaire from the mainland
Scan your QR code at the airport & bring card
Where Do I Upload The Hawaii Vaccine Passport?
All of the documentation that you need to process to get your vaccine exemption will be completed on the Hawaii Safe Travels website. To start the process, go to their website and create an account.
Also, you will need to bring a physical copy of your vaccine exemption to show the screeners. 
Step 1: Add a Trip
After you create an account on the Hawaii Safe Travels website, the first thing you want to do for your vaccine passport is to create a trip. 
Click on the "trips" button and click "add trip".
Once you click "add trip" you will be prompted to fill out all of the trip details below.
Step 2: Apply for COVID vaccine exemption
Once you have a trip recorded, you can then click on the button to the right of trips, which is "Apply for exemption from Quarantine". Once you click on that button, then select "COVID vaccine exemption".
Next, you will be prompted to upload a JPEG image of your vaccine card.
These are acceptable forms of a COVID vaccine card per the Hawaii travel portal 
A CDC COVID-19 vaccination card
VAMS printout
DOD Form DD 2766C
The document you upload must have the same first and last name, and date of birth as the traveler listed in the Safe Travels program. It must also show the type of vaccine received, the date of vaccine, and the lot number(s) of the vaccine as well as the facility name where you received the vaccine.
After you upload the image, you will also have to manually fill in the information about where and when you got your first and second doses of the vaccine. Great news, it's all on the card so that information is easy to find.
You will again be asked which trip you want to associate the vaccine exemption with, so make sure you select your trip.
Step 3: Fill out a health questionnaire 24 hours before you arrive from the mainland
Finally, within 24 hours of arriving, you have to fill out the "Health Questionnaire" form. This form asks about your health and any sick contacts you might have had. You will also have to link it to your trip.
Note: Steps 1, 2, and 3 all have to be completed from the mainland in order to be processed. You cannot do them when you land in Hawaii.
Once you fill out that form, you will receive a QR code sent to your email.
Step 4: Scan the QR code at the airport & bring card with you
After deplaning, you will need to get your QR code scanned. When you exit your plane, pull up the QR code on your phone and have it ready. Airport staff might ask to see that you have it ready to go as they direct you to the QR scanning line.
I highly recommend deplaning as quickly as possible and getting to the QR line fast. Use the bathroom before you get off the plane and don't stop for snacks. This line can be over an hour long! It helps get in line as soon as possible before the others on your flight.
You also need a physical copy of your vaccine card with you to show screeners.
Step 5: Enjoy Your Time in Hawaii
Now that you made it through the airport and you are ready to go, I hope you enjoy your time in beautiful Hawaii. Please remember to be respectful of the local mandates. These mandates, as of this writing) include wearing masks in public indoor spaces, regardless of vaccine status.
Also while you're here, check out my recommendations for the best things to do on Oahu, top 10 things to do in Waikiki, my ultimate guide to Maui, and best things to do on Kauai.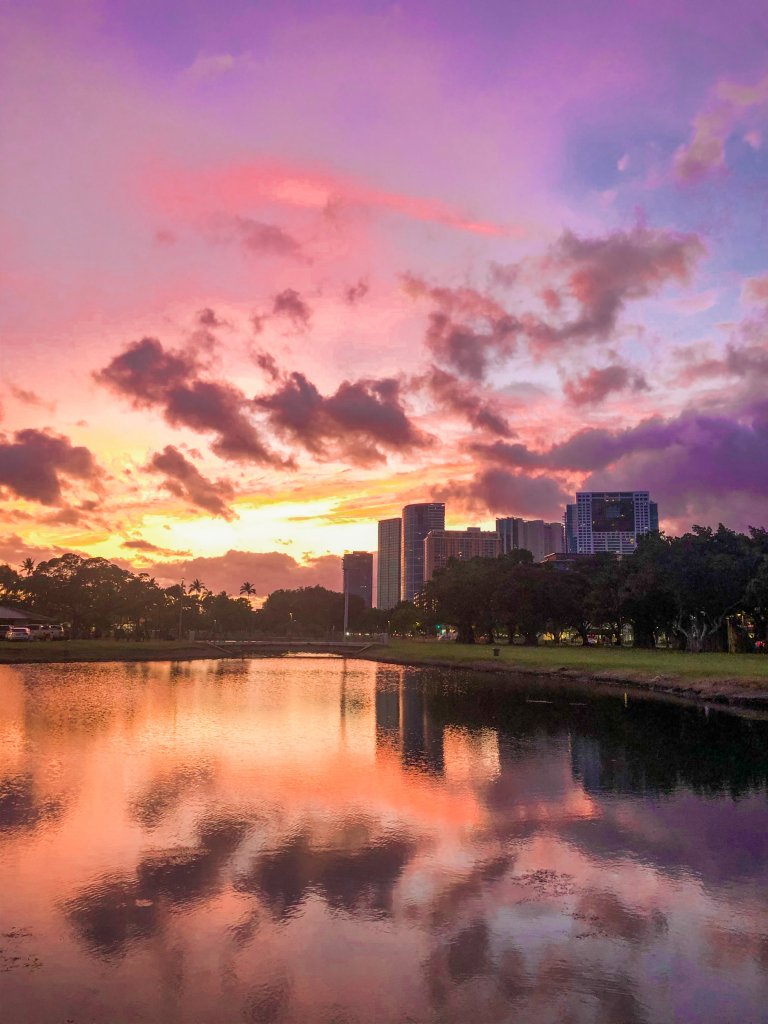 Free E-Book & Newsletter
Subscribe to get our latest content by email and a free download of
The Crash Course to Travel Therapy