You are going to Jordan and now you need to pack! You found the right blog, because I am going over my Jordan packing guide!
A trip to Jordan is a bucket list experience!
From the lost city of Petra, exploring ruins in Amman, to being completely buoyant in the Dead Sea, camping in the Wadi Rum desert, and diving in the Red Sea, Jordan is a destination for the adventurous traveler!
Now, what should you pack for such a diverse adventure?
Packing for Jordan was surely a challenge.
As a woman, I was unsure of any clothing recommendations I should follow. I read that in Jordan it's respectful to keep your arms and legs covered. However, at international hotels and resort towns, it is more liberal. I chose to, for the most part, dress more conservatively for this trip.
Based on my experiences, I put together a Jordan packing guide for women to pack for a Jordan trip.
Women's Clothes to Pack for Jordan
4-6 Pairs of Light Pants: The key to crafting a Jordan wardrobe came down to having light and breathable pairs of pants or bottoms, such as flowy linen or On The Fly pants from Lululemon.
Notice that normally I wouldn't recommend so many pairs of pants for a week-long trip. However, due to the adventurous nature of this trip and red sand, clothes got rather dirty, rather fast. My tour companions and I all ran out of clothes quickly and ended up doing a load of laundry after 5 days on tour.
5-7 Shirts: Pair your pants, shorts, and maxi skirts with tank tops or tee shirts. If you're in a conservative area, such as downtown Amman, you may want to bring a scarf if your shoulders are revealed.
2-3 Pairs of Shorts: Shorts are great for the more athletic portions of this trip. I would recommend a pair for hiking Wadi Majib al Siq, hanging around the Dead Sea and the Red Sea, and for Petra (although you could substitute shorts at Petra for lightweight pants or a flowy outfit).
3-4 Flowy Dresses/Maxi Skirts: These are if you want to substitute pants for a flowy light dress, or dress up for dinner.
1-2 Sweaters or Long-Sleeve Shirts: It can get chilly at night, especially if you are staying in the desert.
Scarf: A lightweight scarf can double as neck protection when you are cold, shoulder coverage in a conservative area, or an all-around fashion accessory.
Sun Gear
The sun is strong during the summer in Jordan. When I went there in early October, it was beating strong and in the high 80's most days.
Sunscreen: Make sure to bring plenty of reef-safe sunscreens. Reef-safe sunscreens do not have oxybenzone and octinoxate, which can block the sun from getting to the reefs and destroy ocean life.
Sunglasses: I always bring a pair and a backup pair.
1-2 Wide Brim Hats: Hats are a great accessory in Jordan. I brought 2 wide-brim hats, one for the beach and city, and one safari style.
2-3 Bathing Suits: You will want to cool off during your time in the sun, and there are plenty of places to do it. You may be at the ocean for multiple days, so it can be helpful to have multiple bathing suits to swap out. You can definitely wear bikinis at the resorts and oceans around Jordan.
Cover Up: If you plan to be at the pools or on the boats, don't forget a swimsuit cover-up. I actually forgot one but was able to buy a nice tunic at a roadside stand that made a nice cover-up.
Footwear for a Week in Jordan
There is a lot of adventure in Jordan and a lot of pressure on your feet. Make sure you bring shoes that are comfortable for walking and exercise.
Sandals: I brought a pair of Birkenstocks and flip flop sandals to wear to the beach. I would recommend bringing 1-2 pairs of sandals.
Hiking Boots or Solid Pair of Sneakers: This is one thing I didn't prepare well enough for the trip. I packed a pair of Converse sneakers, but I wish I would have brought something with more support.
Water Shoes: If you want to have your own water shoes to hike Wadi Majib, then I recommend bringing a closed-toed pair, as there are a bunch of rocks on the river hike. If you don't want to pack a pair of hiking shoes, you can rent them at the hike site for $7, which is what I did.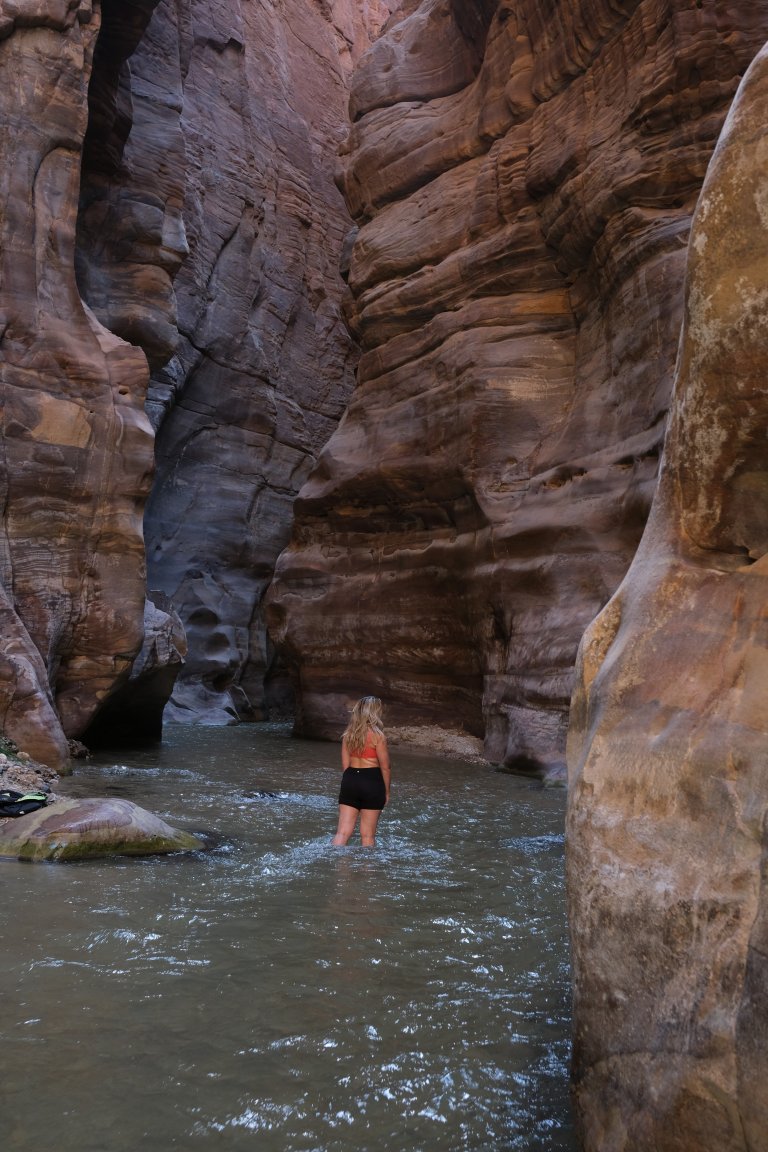 Technology
Phone & Charger: Cellular and wifi service was pretty solid throughout Jordan. The only place where I did not have any reception or wifi was in the middle of the Wadi Rum desert. Before you go, you can increase your cellular plan to an international plan, or buy a Jordan SIM card when you arrive.
Power Bank: The days in Jordan may be very long, and if you are staying in the desert, you may not have good access to electricity. A strong power bank can be beneficial to maintain all of your charges, especially when you are busy or off-grid.
GoPro: There is plenty of water adventure in Jordan. If you plan to be near the water, a waterproof camera, like the GoPro, is a must. If you plan to dive, make sure to bring a suitable dive housing.
Camera: Jordan is one of the most photogenic countries I have ever visited. If you are into photography, bring your gear. Don't forget the wide-angle lens if you want to capture the dramatic landscapes. I traveled with a lightweight mirrorless Fujifilm xt3. If you plan to do astrophotography or snap pictures of yourself, then bring a tripod. Also, plan to bring extra batteries and memory cards so you never miss a shot due to a technical error.
Plug Adapter: There were a variety of power outlets across Jordan including the C, F, G, or L outlets. I had a universal power adapter, which was convenient to plug into any outlet.
Misc Items for Your Jordan Packing Guide
Dry Bag: If you plan to hike Wadi Majib and take anything into the canyon with you, a dry bag is a must. Dry bags are also good for going out on boats and the beach at the Red Sea.
Day Bag: Since there is a lot of walking and adventure involved in any Jordan itinerary, you may have long days and need to tote a lot of stuff. Having a day bag or dry bag with you can be helpful to carry your stuff.
Purse: Something smaller than a day bag for going out at night or exploring during the day.
Water Bottle: You can save plastic and fill up your reusable water bottle along with the way in Jordan.
Make-Up/Toiletries: Bring what you need or buy what you need when you land.
Feminine Products: It can be hard to find tampons and other feminine products in Jordan. Make sure you are stocked up.
Passport/Credit Cards/Cash: The essentials!
In Conclusion
Jordan is an active destination and I was surprised by how quickly my clothes got dirty (red sand!) and how fast I went through outfits. Unless you want to do laundry every couple of days, which is totally possible, I would recommend bringing enough clothes for a week's worth of time. Bring comfortable clothes to wear outdoors for hiking and water adventures, along with some sturdy footwear and appropriate sun protection.
Did this list help you pack? Let me know in the comments. If there is something I missed that is a must-pack for Jordan, add it below.
Related Posts: