Some of the links in this article are "affiliate links", a link with a special tracking code. This means if you click on an affiliate link and purchase the item, we will receive a commission.
Mary Jane Falls is a 2.5 mile moderate intensity hike located in Mt. Charleston, Nevada. The trail head is approximately an hour outside of Las Vegas.
This hike is easy to navigate and is great for families, dogs, and groups of hikers.
Mary Jane Falls is highly trafficked and has a well defined trail. At the top of the trail, you will find a beautiful spot for resting, taking pictures, and the alluring Mary Jane Falls. You can cool down under the falls as you rest, before you descend the hike. I've done this hike twice, both with groups of people, and have enjoyed it immensely!
Navigating The Hike
Mary Jane Falls trail is an easy one hour drive from Las Vegas and has ample parking and restrooms at the trailhead.
If you are visiting from Las Vegas, please check the weather forecast on Mt. Charleston prior to doing the hike. The average temperatures on Mount Charleston are 20-30 degrees less than Las Vegas.
Also, the mountain does get snow (see picture below), so it can be snowy and icy. Be mindful of the season and temperature when doing this trail.
There is a noticeable elevation change in the mountains from Las Vegas. The hike began at 8000 feet above sea level. When you are not used to being this high, make sure that you go slowly and drink a lot of water as you go up the hike.
The hike itself is 2.5 miles round trip with 984 feet of elevation gain and is labeled as MODERATE intensity. It has a well defined trail and a bunch of switchbacks. I've done this hike a couple of times with different groups. Depending on how fast you go and how much time you take at the top, it can be anywhere between 1.5 hours to 2.5 hours.
While some of the trail is shaded, it is at high elevation and is exposed to the sun. Especially if you are hiking in the middle of the day, prepare for the hike with a hat, sunscreen, and extra water.
Be Mindful Of the Switchbacks
The path begins with a beautiful, rather straight walk through the woods. When you reach the side of the mountain, you then go upward via a series of switchbacks. While I find the trail pretty easy to follow, I did hike with some group members who got a bit off trail, because, they missed the division of the trail where the switch backs started.
There is a fallen log on the trail that marks the end of the straight trail. DO NOT walk over the log. If you pass the log, you walked to far and missed the switch backs. Look to your right and you will see a trail to go up the mountain.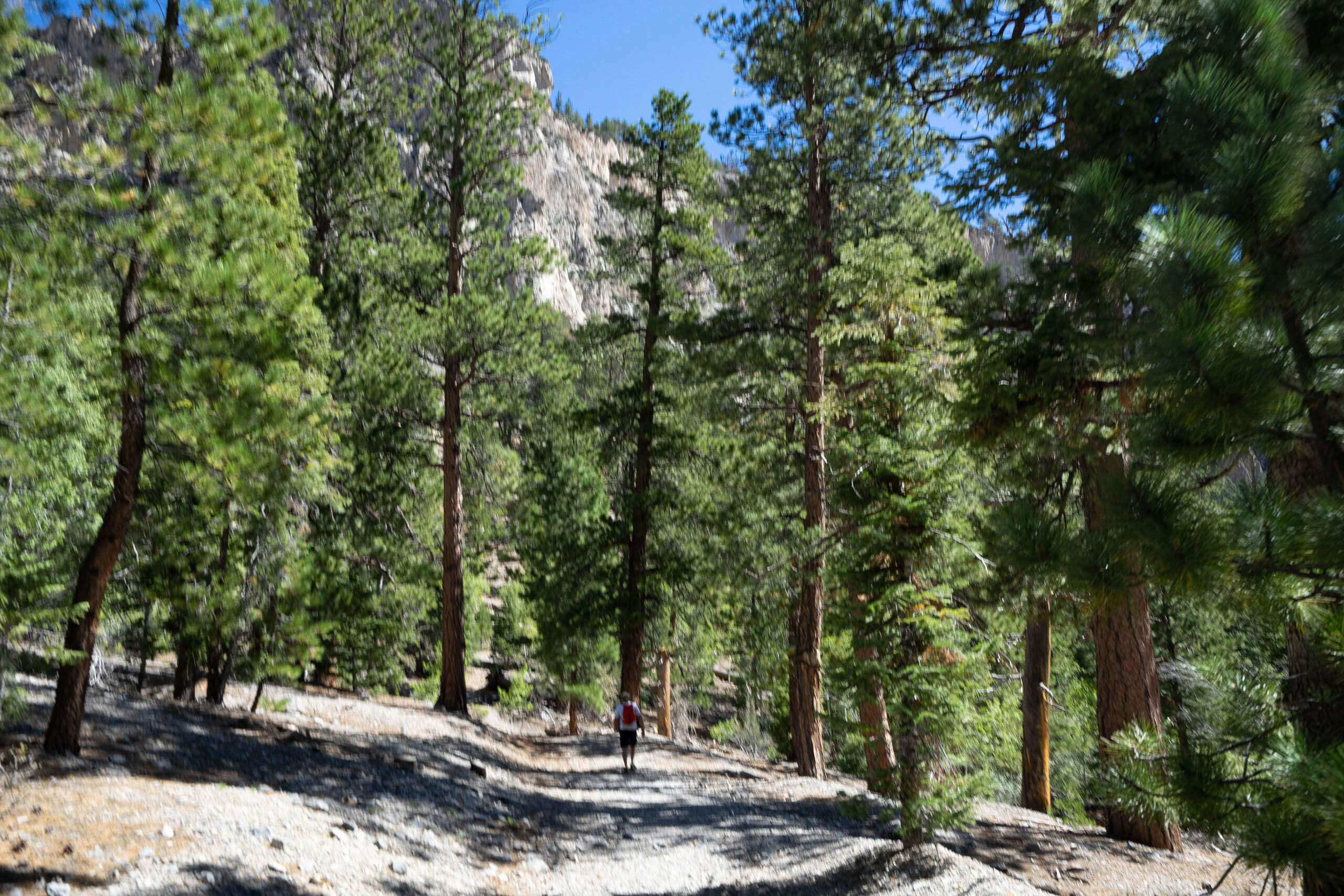 The switch backs themselves are relatively wide and easy to maneuver.
The ground can be slippery at spots and you need to watch your footing. Shoes with good traction are definitely beneficial on this hike
. There are a couple of places where the ground is decaying and you may benefit from having hiking poles. If you generally hike with poles, I would recommend bringing them. If you don't normally hike with poles, then you would not need poles on this trail.
Conclusions
Mary Jane Falls is one of my favorite hikes because of its ease and beautiful views. Because you start at a relatively high elevation, you are getting gorgeous, mountain views, with only a bit over a mile climb to the top.
The waterfall itself is refreshing and there is plenty of space to rest on the trail. While the hike is a workout, I enjoy that it is accessible to hikers of all levels and not exclusive to expert level hikers.
For more details and reviews of this hike, please read this link from All Trails:
https://www.alltrails.com/trail/us/nevada/mary-jane-falls-trail
Also, if you are looking for another trail in the area of similiar intensity, check out my review of Cathedral Rock. Cathedral Rock is close to Mary Jane Falls and is a moderate intensity, 2.7 mile hike.