Some of the links in this article are "affiliate links", a link with a special tracking code. This means if you click on an affiliate link and purchase the item, we will receive a commission.
Need some minimalistic cognitive-communication therapy material ideas?
You are in the right place!
As a clinician who travels to different facilities for work, I never know what therapy materials will be available.
Especially when it comes to cognitive-communication therapy materials!
Going into a new building for the first time can either be very exciting or very disappointing.
While I would love to carry a large supply of therapy materials with me, the logistics and cost of that are not appealing.
Therefore, I have a couple of "go to" cognitive-communication materials that I travel with that have served me extremely well with the adult rehab population.

The applications for an iPad in adult cognitive-communication therapy can be endless.  
I use everything from the calculator to internet browser, to apps designed for speech therapy.
In a building that has wifi, I often use the internet for community reintegration and executive function goals. 
For a high-level patient, I may have the patient search for functional information on the internet.  Perhaps going to Craigslist to look up apartment prices or going to Expedia to plan a trip under a certain budget.
Apps are wonderful for cognitive-communication therapy and offer an interactive patient experience that you cannot achieve with pen and paper tasks.  
Personally, I enjoy the Language Therapy: Tactus Therapy Solutions App called Language Therapy – 4-in-1 Toolkit for Aphasia. 
I find this app to be very useful because it comes with a large supply of stock photo cards that you can use for naming tasks.   
I have worked in buildings where there have not been any photo cards and was very glad to have this app on my iPad for language therapy when I needed cards for naming activities.
Lumosity is another app/website that I enjoy for the adult rehab population.  Lumosity is comprised of games that target different areas of the cognitive domain. 
There is a daily free version and also a monthly and yearly subscription available for the website.  I have had positive responses from my patients when using this during cognitive treatments.
I love the WALC books!
They are some of my all time favorite cognitive-communication speech therapy materials.  I find them helpful in covering all domains of language and cognitive therapy. 
While there are 13 WALC books in total there are three that I carry with me and find extremely helpful.
Aphasia Rehab: I use this book in a lot of different ways and not just for aphasia therapy.   
For example, the first unit has symbol matching exercises. These pages are not only good for patient's with severe auditory comprehension deficits, but also great for working with patients who have left neglects and severe attention deficits. 
I often use a highlighter as visual anchor on these pages to draw the patient's attention to the left as we are working on a left neglect task.  The last unit in the WALC 1 has functional reading and writing pieces, which also work well for people with complex attention and executive function deficits.
Cognitive Rehab.  There are days when I use this book during every treatment session. I absolutely love this book for adult cognitive rehab and if there was one WALC book that I would suggest to buy above any others, this would be the one.  
 It has tasks to address basic to complex cognitive deficits.  There are great sequencing exercises, sustained attention, and word lists for recall. 
The last unit of the book has deduction puzzles, which are some of my favorite materials for patients with high level/mild cognitive deficits and are received well by patients who need more challenging therapy stimuli.
Everyday Math.  While the title may say math, I primarily use this book for multiple areas of cognitive treatment.
This includes complex attention, reasoning, problem solving, and executive function tasks. 
There are pages for check-book management, money management and time management.  I often use this book for my higher level cognitive patients and find the exercises to be appropriate for them.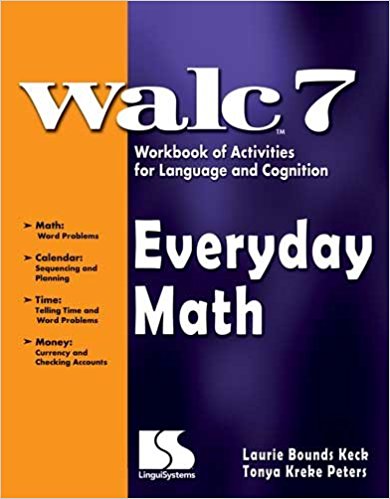 A deck of cards is cheap, easy to carry and makes great speech therapy materials for all levels. 
If I am working on basic attention, I may have my patients sort the deck by color or suit. 
For more complex patients, I may play a game of Rummy or another more complex card game. 
Thanks to some tutorials from former patients, I can now shuffle a deck of cards like a pro and have become quite the card shark.
Yes, the list is done here!
Only three things. 
Being a traveling clinician who works in multiple buildings has turned me into a very minimalistic clinician.
This has helped me to make the most of the cognitive-communication therapy materials that I have. Also, I learned to only carry the basics with me from building to building.
Pin this blog to share with others: