The possibilities for where speech-language pathologists (SLPs) work are bountiful! You can work in a hospital, skilled nursing facility, school, or even your own private practice. It is up to you and your career goals.
As a traveling speech-language pathologist, who has worked short-term contracts across the country, I've had the privilege of working in many settings with different levels of care and patient populations.  I love the variety of settings and patient populations that I can work with as an SLP.
Educational Setting
The majority of SLPs report working in the educational setting. An ASHA survey of SLPs showed that 56% of SLPs reported working in the educational setting.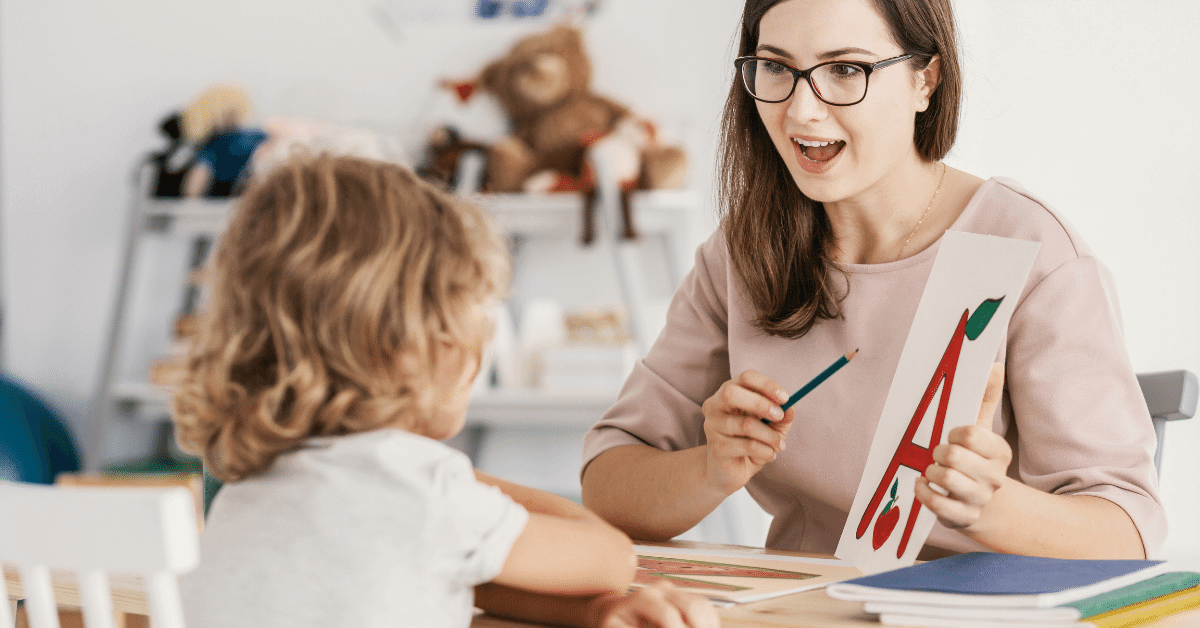 Places where speech-language pathologists work in the educational setting:
Preschool
Elementary School
Middle School
High School
Colleges and universities
In the K-12 setting, SLPs can work with students to do individual, group, and push-in class therapy for speech and language disorders.
In the university setting, they work as professors and supervisors to educate and train students into our future SLPs!
Home Setting
Speech-language pathologists can travel to patients' homes and work directly in their home setting. SLPs can do home visits for early intervention agencies, private practice visits, and home health care agencies.
In my opinion, home therapy is one of the most functional therapy that we perform. The ability to work with your client in their home, with family present, is extremely beneficial to establishing functional goals and meeting them in their most functional environment.
Medical Setting
Speech-language pathologists work in the medical setting to address speech and language deficits as well as swallowing and cognitive-linguistic deficits.
Places where speech-language pathologists work in the medical setting:
Hospitals
Inpatient rehabs
Skilled nursing facilities
Assisted living facilities
Long-term care centers
Hosital associated outpatient clinics
Home health care
Outpatient Clinics
Outpatient clinics serve the gamut of clients with needs for SLP services. From pediatrics to adults, clinics serve a wide variety of patients. Outpatient clinics might be part of a hospital system, chain of clinics, or privately owned private practices.
Consulting
Speech-language pathologists can also work as consultants who do not directly work at a facility. An SLP consultant might work with a client to help to develop systems that are beneficial to their facility. Or, a consultant might perform evaluations only and give recommendations to the staff for therapy ideas. Consultants could also work for an SLP therapy company and provide consulting to SLPs, patients, and families who purchase their products.
Entrepreneurs
While the list above might seem like I'm trying to fit all SLPs into a box, this is not the case at all. As an SLP, you can become an entrepreneur and use your skills to work in unique ways. I personally know SLPs who own companies that create therapy apps, sell therapy materials, provide digital resources to SLPs, design clothing and SLP-related merchandise, and provide continuing education to other SLPs and medical professionals.
If there's an idea that you have as an SLP, you can create it and make it come to fruition. SLPs are highly organized, brilliant and motivated individuals who make great leaders and business owners.
To Recap
Speech-language pathologists can find jobs in a variety of settings, including medical, educational, and home health settings. If you're an SLP looking for work or if you know someone who is interested in this career field, let me know in the comments below!