You see the picture-perfect Instagram photos of women smiling and laughing in flawless destinations. From picnics on the beach to hiking in exotic places, TBA Escapes tours look like bucket list trips filled with smiling faces.
The trips almost look too good to be true.
Is this tour really as good as it seems?
Are TBA Escapes worth it?
Is this another Fyre festival where a bunch of influencers look like they are having an amazing time, but in reality end up sleeping in a tent and eating ham sandwiches?
To be short, TBA Escapes is absolutely worth the money!
They are an amazing tour opportunity for women who are interested in stepping outside of their comfort zone, connecting with other female travelers, and sharing a travel experience crafted especially for women.
They are even more incredible than they appear online.
The price tag reflects that they are luxury tours, and it may seem high if you are used to primarily budget travel. However, the price is on par with the more luxury-based trips that I have taken. The tours are amazing experiences and something I would highly recommend if you are thinking about it.
What is TBA Escapes Anyway?
Before I delve into the nitty-gritty of TBA Escapes, I want to take a moment to talk about the foundation of the company. TBA Escapes is an all-female tour company founded and owned by Kiersten "Kiki" Rich of The Blonde Abroad. Kiersten is one of the original pioneers of travel blogging, and paved the way for women and bloggers, including myself, to make a career out of the travel blogging space.
TBA Escapes were created to empower and help women travel and explore the world outside of their comfort zone.
The locations of the tours are specifically selected to be places where some women and solo travelers may not feel comfortable traveling alone.
Each trip is designed to evoke bucket list, once in a lifetime experiences, whether it is SCUBA diving in the Red Sea, a safari through South Africa, or sleeping under the stars in the Sahara Desert.
Most of the trips also have a heavy focus on photography and crafting your skills.
The tours all provide plenty of time to capture shots, some training on the basics of photography and using manual functions on your camera. Some of the tours go more in-depth on editing and include short editing classes to teach the basics of Lightroom.
Select tours are sponsored by photography brands. I was lucky to go on a tour sponsored by Fujifilm and got to borrow a mirrorless X-T3 camera and lens for free.
Because of Kiersten's special relationship to brands as a blogger, she is able to offer awesome "high-value freebies" for her guests that no other tour company can.
TBA Escapes focus on empowering women
The final part of TBA Escapes that really excites me is the emphasis on empowering women.
All of the tours are female-only and are hosted by females, including local female tour guides. There is a focus on giving back to females in the community, including using female-owned businesses locally, such as restaurants.
.
PLUS, some of the tours are hosted Kiersten herself.
Kiersten is a down to earth, authentic woman who is able to connect so well with others and makes everybody feel comfortable on the tours.. Being able to travel with her and listen to her stories and experiences is an amazing opportunity in itself. However, Kiersten being a host isn't a dealbreaker. I still 100% recommend a TBA Escapes tour that is hosted by another member of the TBA Escapes team because the tour itself is so high-quality and well-executed.
My Experience With TBA Escapes
My experience with TBA Escapes actually started before it was officially founded. In 2017, Kiersten ran a 10-day blogging retreat in Bali where she taught bloggers the business of blogging. The retreat provided daily classes, mentorship, photography practice, and travel experiences. When I saw the retreat being advertised on Instagram, I jumped at the opportunity to go on it and immediately filled out an application.
To be honest, when I told people I was going to pay $5000 to go on a blogger retreat to Bali, many people (including my family) told me it was a scam and warned me against it.
However, I pursued forward. I had been following Kiersten for years and could see that she had a dedication to her craft. Although I had never met her, she appeared to be very proud of her reputation and work. She seemed like the type of person who would aim for perfectionism and I felt very comfortable purchasing any product she sold. I took a chance and went on her first guided travel experience and it was a success.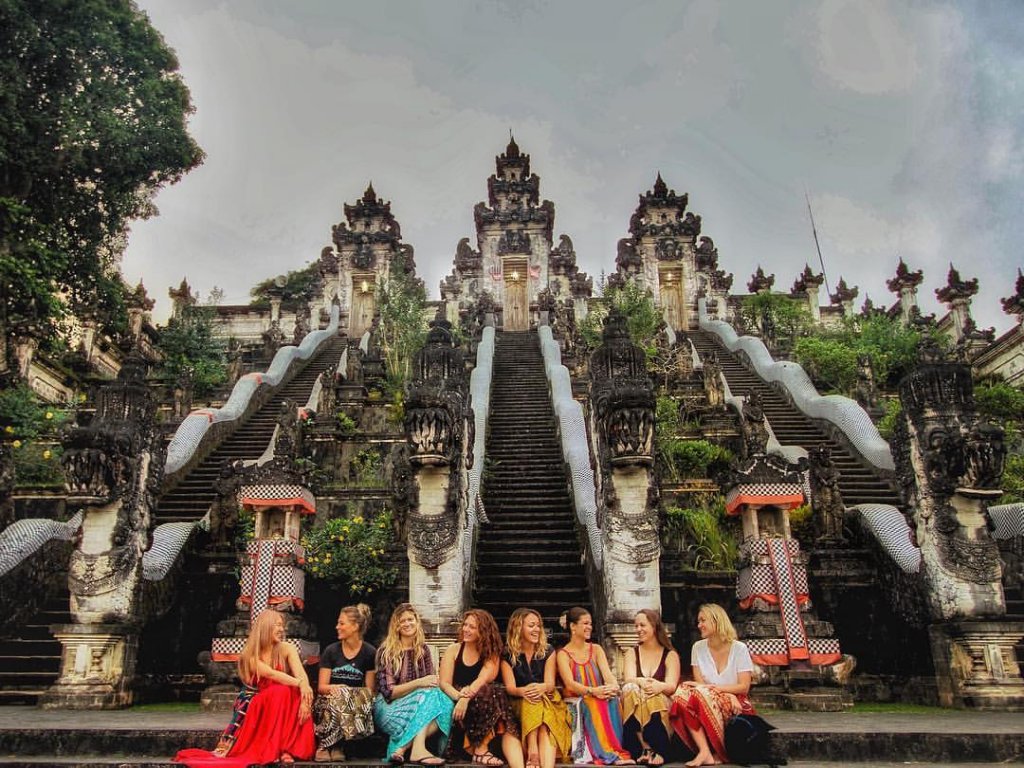 After attending the TBA Blogging Retreat in 2017, I transformed this blog from a hobby that was a complete money pit, into a business that reaches new readers daily. Kiersten taught me the fundamentals of the business of blogging and how to build the infrastructure for a profitable business.
A year after the Bali retreats, TBA Escapes launched, starting with a South Africa tour. I have not gone on the South Africa tour, but I did go on the Jordan Ancient Wonders tour, which was launched in 2019.
The Review
Now that you know the fundamentals and ethos of the company and my experience with them, I do want to review the trip in a little more detail.
Purchase
To purchase a spot on a TBA Escapes tour, you need to be quick.
The tours are small groups, anywhere from 12-18 women, and sell out quickly.
The tour that I just completed in Jordan sold out in 2 days during a pre-sale to "alumni" TBA Escapes attendees. Once you've gone on a TBA Escapes trip, you get discounted tour pricing AND get first dibs on future tours. If you haven't been on a tour, I recommend signing up for a waitlist to be alerted about dates and sales of tours.
You cannot directly purchase a tour, like other tour companies.
You do have to complete a small application where you answer questions about what you are looking for on the tour and why you want to go on it. The hosts vet travelers to make sure they are a match for the trip and are interested in travel, photography, and group trips.
When you receive confirmation that you have been accepted to a tour, you need to immediately pay a non-refundable deposit for the trip.
After that, you can pay the trip in one payment, or set up a payment plan to pay over several months. If you set up a payment plan, you receive emails reminding you about payments and easy invoices to complete. The payment system is all online and pretty flawless.
The communication leading up to the trip is on-point as well.
You get frequent communications from the TBA Escapes team to send your passport, flight details, and travel insurance information.
Closer to the date of the trip, you receive a well-organized trip itinerary, packing list, and access to a private Facebook group and WhatsApp chat where you can connect with the other women on the trip and ask questions of the hosts.
As I departed for the Jordan trip, I literally did not have an unanswered question. I knew exactly how I was getting from the airport to the hotel, phone numbers of who to contact in case of emergency, where we were going and staying, and what to pack. Everything was very well organized in the pre-trip phase.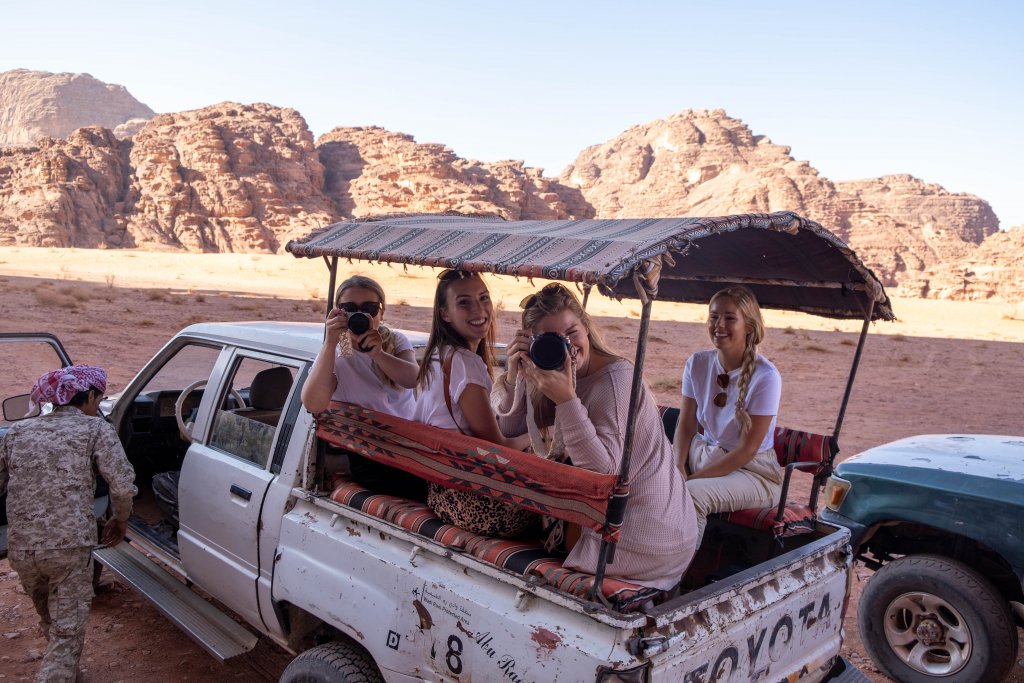 The Price
The price of the tours vary based on the tour itself.
The prices for 2019 tours ranged from $4200 to $7800 for 8-14 days of all-inclusive luxury accommodations.
Once you arrive on the tour, literally everything you need is provided–meals, transportation, certain drinks with meals, etc. All you need to pay out of your own pocket is for souvenirs, extra snacks/drinks.
The inspiration for writing this blog was that a lot of women have reached out to me on Instagram and asked if the price was worth it. Based on the accommodations and level of service you get with this all-inclusive trip, I do believe it is a fair price and absolutely worth every dime. You can surely go on cheaper, more budget-friendly tours if you want to. However, you won't be getting the level of accommodations, service, female-oriented tour, and focus on photography that you get with TBA Escapes.
One additional thing to note is that many of the activities and experiences on a TBA Escapes tours are possible because of the tour group.
For example, they book out entire properties (like Riad Yasmine on the Morocco tour) so you get a once-in-a-lifetime sleepover of your dreams.
In South Africa, they work with wedding operators to set up activities that are normally only bookable through weddings and large events. And on my tour in Jordan, they worked directly with the tourism authority to grant special privileges for our group. It's above and beyond what you'll experience on a generic group tour.
Arrival
You can arrive prior to the start date at any time and meet with the tour when it starts. Or, you can arrive just in time for the tour. The tour is double occupancy and the hosts determine roommates prior to arrival. Thus, you do not have to scramble to find somebody to room with if you are not familiar with anybody on the tour.
When the group officially convenes, the tour is very organized and structured. If you are somebody who enjoys structured tours and pre-planning, I think you would highly enjoy the organization of TBA Escapes.
Accommodations and Transportation
All of the transportation is provided by drivers. You don't have to ever worry about catching an Uber or arranging transit while on the trips.
Accommodations are luxury properties. On the Jordan Ancient Wonders tour, we primarily stayed in Kempinski properties.
I was highly impressed with the service and comfort of the hotels. Every room had complimentary water and coffee/tea service, bathrobes and slippers, and natural beauty products. Truly, the only bad thing about the hotels was that we were so busy that we spent little time at them. They were all beautiful properties and I could have spent more time just relaxing poolside.
As I mentioned above, the rooms are double occupancy. I think all tours vary a bit in regard to roommates. Some may switch roommates as you switch locations, and some stay the same. If you have a roommate issue, you can bring it up to the hosts and they can help to rearrange rooms as needed. Also, if you are traveling with a friend or family member, you can request to have them as your roommate.
Food
You will not go hungry on a TBA Escapes tour! There is plenty of food and an emphasis on locally-owned restaurants. You get to experience the culinary cuisine of your destination and have some really good eats! On the Jordan tour, we even took a cooking class to learn about the cooking and preparation of local foods.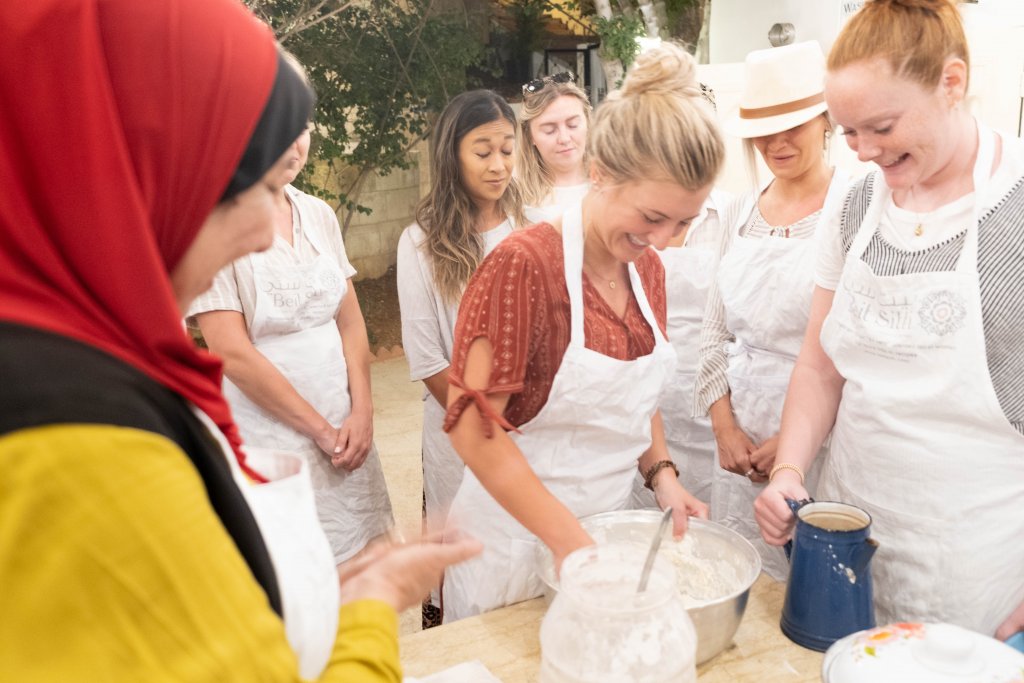 Itinerary
The itineraries for the trips are all handcrafted to create those WOW moments and check off bucket list experiences.
Every tour is a bit different, and I suggest reading the trip details before selecting a tour.
The Jordan Ancient Wonders tour was highly adventurous and physically challenging. It was an absolutely perfect match for me but may not be for somebody who does not like outdoor physical activity.
Generally speaking, the tours are all very busy and full of activity. You will be on the go from one experience to the next.
Jordan Ancient Wonders Tour Highlights
Hiking through Wadi Mujib Siq (slot canyon), which includes rock climbing boulders and going down nature's own water slides
Floating in the Dead Sea
SCUBA diving in the Red Sea
Hiking through the ancient city of Petra
Sleeping in Bubble Tents in the middle of Wadi Rum desert
Photography
While not every tour is an official "Photography Tour", there is a large focus on photography during the tours.
Whether you join a photography tour or not, the tours are guaranteed to take you to some of the most photogenic destinations on Earth!
If you don't have a mirrorless or DSLR camera, I would recommend purchasing one. Also, learn the basics of using it for before the trip. It's totally not required, but I am so glad I have gorgeous photos of my memories from these experiences. Everywhere you go, you will have time for photography and taking shots.
The group nature of the tour is a great way to learn from others and share your own photography tips. There is also plenty of time to practice getting shots. You won't feel like you are holding up the group to get a picture. Everybody is getting pictures!
Conclusions
YES, absolutely TBA Escapes are worth it!
For starters, they take you to destinations that are slightly outside of the comfort zone of many female travelers and allow you to explore the destinations with a group of like-minded women.
They are highly organized from the pre-planning process all the way through the trip.
Everything is all-inclusive, so you don't have to worry about spending more money when you are there, or awkwardly splitting checks at meals.
The tours also connect you with like-minded women with whom you form bonds that can develop into lifelong connections.
If you have any specific questions, please feel free to contact me here. If you have gone on a TBA Escape and want to share your experiences, I would love to read them in the comments.