Kauai, the northernmost major Hawaiian island, is often referred to as the Garden Island.
It is lush and green with plenty of rain! Kauai is a place to relax and have adventures.
The beautiful ocean, mountains, river, and towns are filled with endless things to do. Living on Oahu for many years, I had the pleasure of traveling to Kauai multiple times.
Here are my top recommendations for the best things to do in Kauai!
Experience the Na Pali Coast By Boat
The Na Pali coast is a 16-mile stretch of northwestern Kauai that is completely inaccessible by car. The stunning coastline is comprised of mountains reaching nearly 4,000 feet tall and is viewable from the ocean or helicopter.
The view by boat is incredible!
You can take small chartered boats to view the coast from Port Allen and Hanalei.
Blue Ocean Adventures offers a boat tour for the more adventurous in nature. I enjoy this tour because it is on a small Navy zodiac boat, which is small enough to get in and out of all of the caves on the coast. You get an intimate tour with a captain and small group. The tour takes you down the coast, in and out of caves, and snorkeling in front of the coastline!
Note: There is an 11-mile one-way hiking trail that traverses the Na Pali coast. It is by permit-only and currently closed because of damage by Hurricane Lane. As of 10/2018 it is uncertain if or when the trail will re-open to hikers.
Chase Waterfalls
Kauai is filled with waterfalls, which makes chasing waterfalls one of the best things to do in Kauai!
While many of them require hiking to see, there are a couple that are visible pretty easily. Wailua Falls and O'peaka'a Falls are both a couple of miles off the road and have scenic lookout points to view the falls. Waipoo Falls in Waimea Canyon is also visible from multiple lookout points.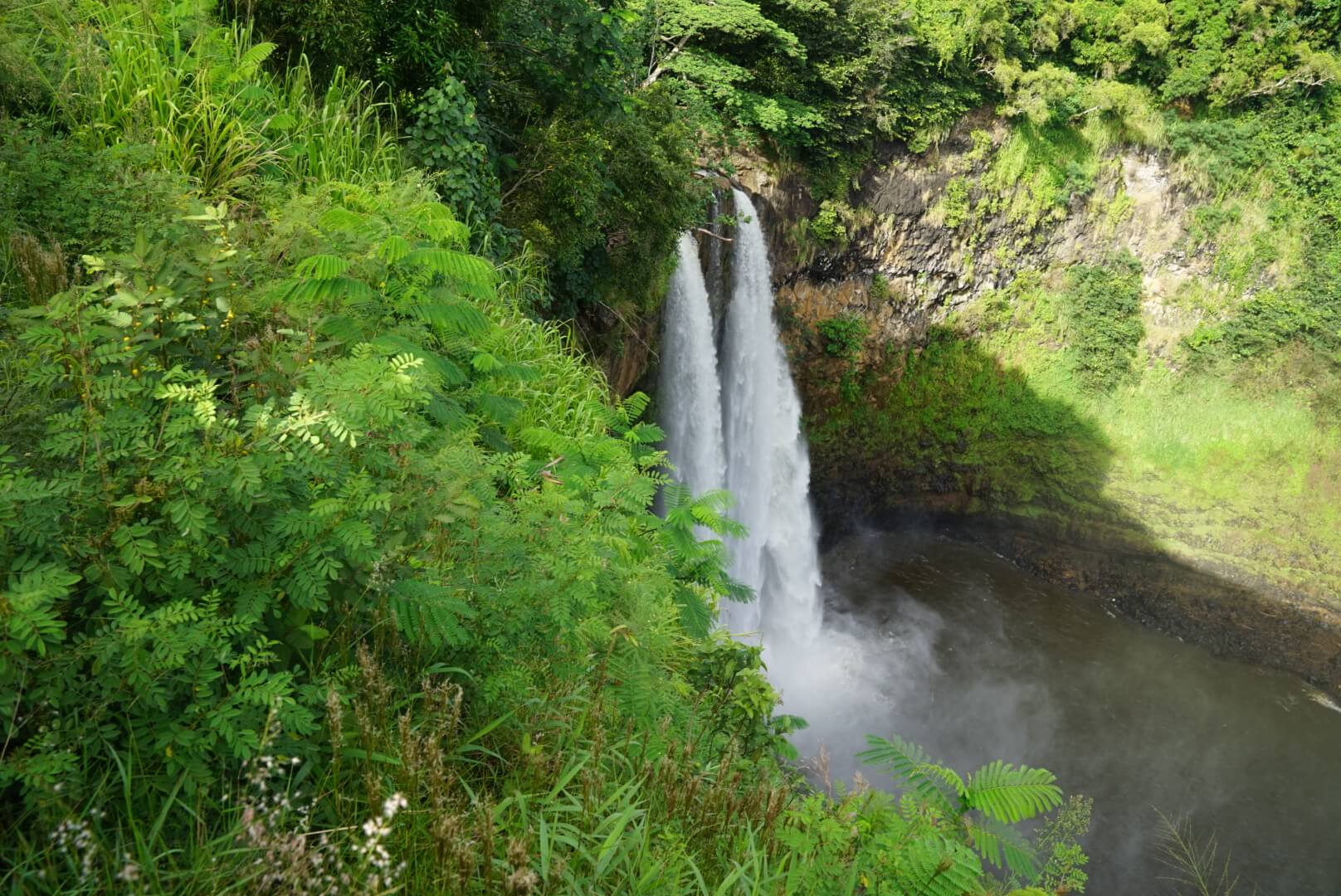 Visit Waimea Canyon
Waimea Canyon is known as the Grand Canyon of the Pacific. It is at least a 10-mile long canyon filled with beautiful reddish-colored vistas, waterfalls, and wonderful views.
You can drive through the canyon and stop at multiple lookout points for scenic views. If you drive to the end of the canyon, you will reach the Kalalau Lookout, where you see jaw-dropping views of the ocean.
If you are interested in hiking or camping in the canyon, check out Kokee Lodge. The lodge is located in the middle of Waimea Canyon and offers cabin rentals, a coffee and souvenir shop, as well as a small restaurant. You can buy hiking maps here of the canyon, which offer clear views of all of the trails. If you want to spend a night in the canyon and do some hiking, this is a perfect spot to grab a cabin!
Kayak The Wailua River To Secret Falls
One of the more popular excursions on Kauai is the kayak tour of the Wailua River to Secret Falls. After completing the tour, I understand why!
Secret Falls is a gorgeous waterfall that is only accessible via kayaking to the trailhead and then hiking to the falls. It is well worth the trek!
This is a half-day tour that leaves at the basin of the Wailua River in Wailua and kayaks about 2 miles down the river to the trailhead for Secret Falls. Once you get to the trailhead, you hike for about 1.5 miles, cross multiple streams, and trek through some pretty muddy ground to reach the falls. Definitely wear water shoes and old clothes on this tour.
Check Out Poipu Beach
Poipu beach is one of the more popular beaches on the south side of Kauai. It has been named by different publications as one of the best beaches in America! This is definitely one to visit while in Kauai. While there are many resorts right on the beach, it is also easy to access by the public. There is ample parking, indoor bathrooms, and picnic tables in the beach area.
At the beach you can find snorkeling, paddle boarding, surfing, and a wading pond. If you're lucky you may even see a Hawaiian Monk Seal washed on shore!
Stop For Some Eats In Kapaa
Kapaa is a small town located on the east side of the island. It's a great place to walk around into some cute shops and also grab some food!
Breakfast: Kountry Kitchen will fill your tummy at breakfast. The portions are gigantic and the quality is amazing. The Kauai made coffee will start you on the right track for the day!
Lunch: Bubba's Burger is your traditional burger place with a good twist. They only serve 100% grass-fed beef and put pride in their natural ingredients. The quality will not disappoint!
Dinner/Drinks: Lava Lava Beach Club, is a beach club located right on the ocean. Go at nighttime for some live music and eats on the ocean! Grab a full dinner or a drink and something off of the pupu (appetizer) menu with friends.
Soak In Queen's Bath
Queen's Bath is a tide pool located in Princeville. Get your mermaid shots and bask in the water at this beautiful tide pool. The tide pools are a short, but muddy, hike from the parking lot. Come prepared with correct footwear to do a muddy, short, but steep hike.
Take A Hike
Speaking of hiking, don't forget to pack your hiking shoes and take a hike in Kauai. With so many beautiful mountains and peaks, there are endless trails.
For a moderate trail with great views, I recommend Sleeping Giant. There are different trails with varying lengths to get to different peaks on the Sleeping Giant Trail. Check out All Trails for trail recommendations. I recommend doing the Sleeping Giant hike because the majority of the trails are moderate intensity with easy-to-follow switchbacks. It's a fairly easy trail to follow to some nice lookout points. For the more adventurous, you can scramble a bit to the top of beautiful ridges for even better views!
Stroll Through Hanalei
Hanalei is on the far north shore of the island and is a perfect spot for swimming, surfing, and cruising through the small beach town. There's a bit of everything in Hanalei. From shave ice, to surf shops, to cute island boutiques. This is a fun town to stroll around and pop in and out of stores.
Kauai is a beautiful destination filled with nature and adventure! I Hope that you enjoyed this list of the best things to do in Kauai! Please leave a comment if you have anything to add to the list. 🙂