Some of the links in this article are "affiliate links", a link with a special tracking code. This means if you click on an affiliate link and purchase the item, we will receive a commission.
Jordan is a country full of water activity and adventures! One of the absolute highlights of my trip there was a hike through the Wadi Mujib Siq Trail. This 2-4 hour hike takes you through the river in the middle of a gorgeous slot canyon to a beautiful waterfall.
Wadi Mujib is a slot canyon that surrounds the Mujib river, which flows through Jordan and into the Dead Sea.
The Siq hike is a popular hike through the center of the canyon.
It starts as a simple walk through the stream and quickly escalates into an all-out adventure filled with rock climbing, swimming, and waterslides.
You will be swimming by the end of this hike, so be prepared for everything you bring into the canyon with you to get wet.
Entering the Trail
Trailhead location: Wadi Mujib Adventure Center FH8F+R7 Al Judayyidah, Jordan
Getting there: You can drive a rental car or go on a privately operated tour. There are many tour operators across Amman and the Dead Sea area with hotel pick-up and drop-off.
If you go solo, you can purchase tickets to enter the Siq and hire a guide at the visitors' center. The visitor center also has plenty of bathrooms and changing rooms available. There is ample parking at the visitor center and the trailhead.
Once you pass through the visitor center, you go over a small bridge to get to the trailhead. You need to descend a ladder into the river.
Once in the river, you start in relatively low water, about knee-deep. You walk through the river for about 10 minutes before you become soaked in water.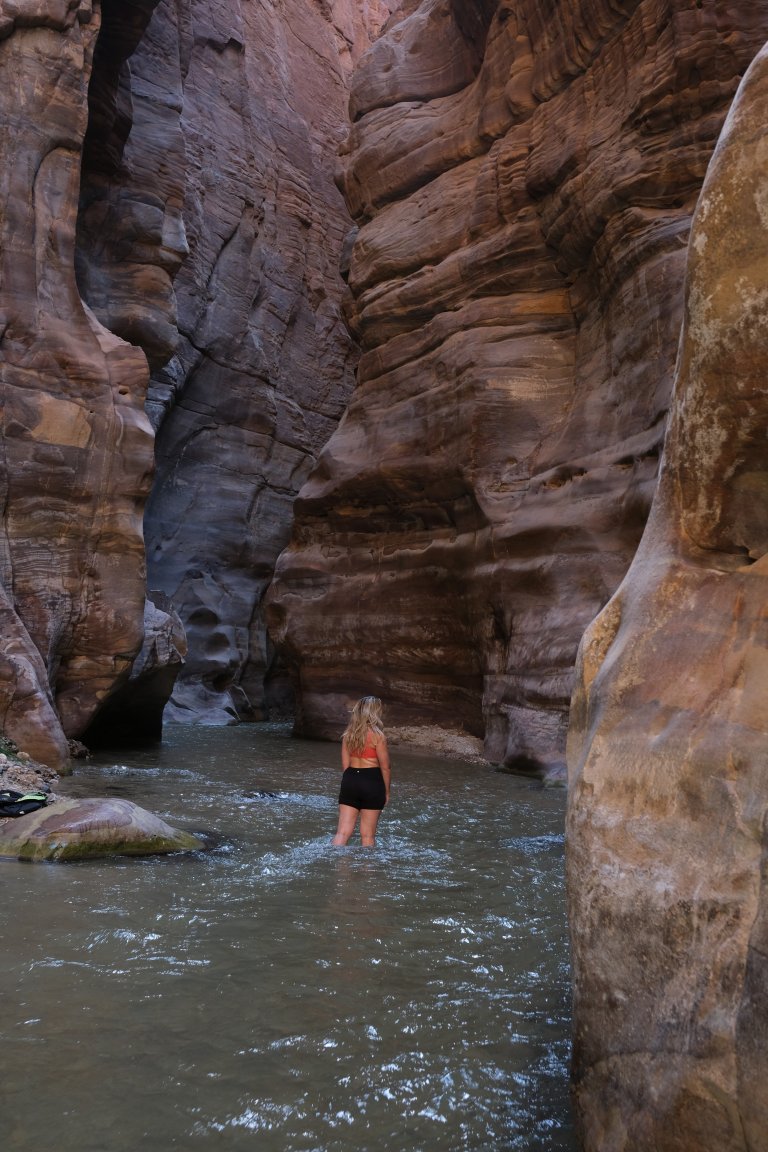 What to Expect on the Siq Trail at Wadi Mujib
When I read about the Siq Trail at Wadi Mujib prior to hiking it, I had no idea what to expect. It appeared similar to The Narrows at Zion National Park. However, unlike The Narrows, this hike is a full-blown canyoneering adventure hike.
Availability: The trail is open from April 31 through October 31st. The trail is open from 8 am to 3 pm.
Distance: 3km, appx 1.8 miles roundtrip
Time: Between 2-4 hours. This varies a lot based on the number of people on the trail and the amount of time you have to wait to climb over waterfalls. It took my group 3.5 hours to hike the trail, but we spent a lot of time stopped and waiting to pass areas.
Difficulty level: I'm rating the trail as moderate. Lengthwise, it is not a long trail. However, there are difficult technical aspects, such as climbing over 2-3 waterfalls, scrambling, and forging against a river current. You need a sense of adventure and to be somewhat in shape to complete the obstacles.
Should I Get a Guide?
Yes, I recommend a guide for the hike!
My group did the Siq hike without a guide and honestly, I would recommend one.
You can get a guide for your group at the visitor center and they are beneficial for two main reasons:
1. They can assist your group with an extra hand climbing over some of the more difficult obstacles of the hike; and 2. They can help you navigate your way through the trail and among other groups.
My group definitely had difficulty pressing through the hike when it was full of people and traffic was coming from both directions.
The groups with guides had an easier time forging ahead and getting through the trail faster and more effectively. It was also difficult for us to pass through some of the larger climbing sections without an extra person to help us along the way.
What to Wear On the Madi Mujib Siq Trail
You can dress as liberal or conservative as you want for this hike.
I saw hikers wearing bathing suits and I also saw some wearing fully covered clothes from head to foot.
Personally, I wore a bathing suit with exercise shorts and a life jacket. Life jackets are required for the hike, and for good reasons. There is a strong current at parts of the hike and you are fully swimming to get through parts of the river.
For a full Jordan packing guide, check out my guide here.
Quick Drying Clothes: whatever you choose to wear, I recommend it be something that can dry quickly and doesn't hold a lot of water on the trail itself.
Water Shoes: You will be hiking through a river and your feet will be wet. There are also a ton of rocks on the floor of the river and open-toed shoes are less than ideal. I recommend wearing a closed-toe water shoe for the hike. If you don't have a pair, you can rent a pair at the entrance for $7. I rented a pair, which were slip-on, closed-toe, and perfect for the hike.
Life Jacket: As I mentioned above, wearing a life jacket is a must for this hike. It is actually required that you wear one for the duration of the hike. You can pick one up at the entrance to the hike and wear it for the duration.
What to Pack
Go Pro: If you want to capture memories from the hike, a waterproof camera is a must. The Go Pro is the perfect camera for this hike.
Dry Bag: If you want to bring anything on the hike that cannot get wet, you MUST have it in a solid dry bag. You will be fully submerged in water during this hike and everything on you will be wet. If you have anything that needs to stay dry (phone, water bottle, etc), it needs to be in a dry bag or dry casing. I also recommend testing out your dry bag before you go on the hike to make sure that it inflates well and does not have any holes in it.
Water: The hike is in the shade and you are fully covered in water during the hike. Personally, I did not bring any water on the hike. However, if you feel that you need it, absolutely bring some water in your dry bag.
Summary
The Siq Trail at Wadi Mujib is an epic hike that is full of climbing, swimming, and adventure. It is a lot of fun and will absolutely leave you covered in water. You can turn around on the trail at any time, but the endpoint is a waterfall. Make sure that everything you take in with you is waterproof and that you have good water footgear. There are some technical aspects of the trail, but the duration of it is not super difficult. Most importantly, have fun and enjoy the canyon and waterfall!
Photo Credit: Cover photo and blog photos from TBA Escapes