Some of the links in this article are "affiliate links", a link with a special tracking code. This means if you click on an affiliate link and purchase the item, we will receive a commission.
Waikiki Beach is a famous two-mile strip of shore located on the south shore of Oahu.
It is filled with hotels, stores, nightlife, and world-class restaurants all within walking distance to, or on, the beach.
Waikiki is a popular vacation destination in Hawaii and many vacationers may not even leave Waikiki during their Oahu stay.
Waikiki is a close 25-45 min drive to the airport with many shuttle and bus options available to transport you from the airport to your lodging.
It is also a jumping-off point for many excursions on the island. From Waikiki, you can hop on tours and busses to all sides of Oahu or rent a car and drive the island yourself. 
As a mainland transplant to Oahu, I live on the outskirts of Waikiki and enjoy the hustle and bustle of the city, mixed with the relaxed beach vibes. There is always something to do in Waikiki and everything is easily accessible by walking or a short cab ride.
Whether you are like me and working temporary contracts in Oahu, or visiting for a few days, I highly recommend spending some time in Waikiki. 
For more to do on Oahu: Check Out This Bucket List Piece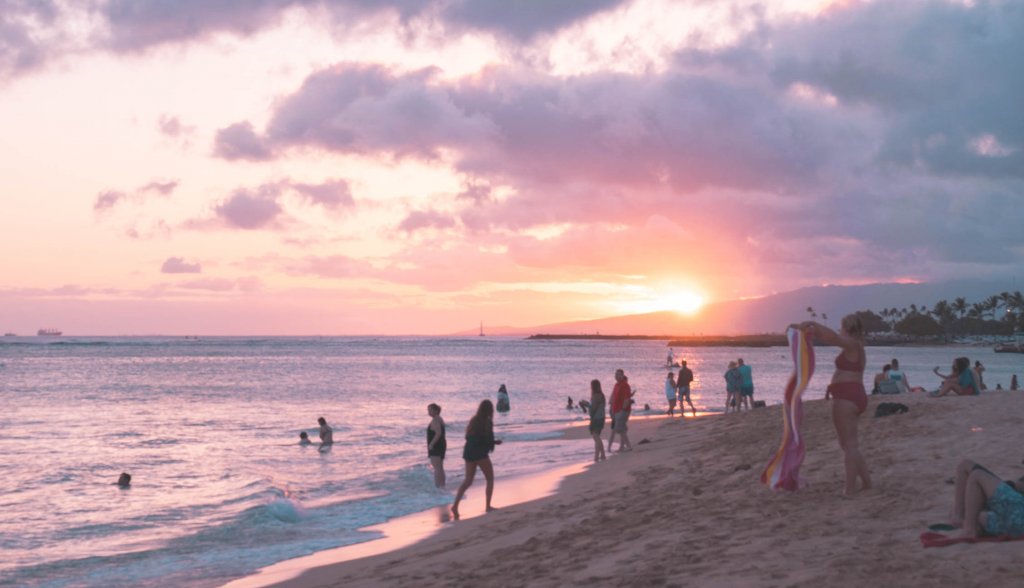 1. Be a Beach Bum
Waikiki Beach is known for its beautiful strip of sand and water. All of the beaches in Waikiki are open to the public, so walk on down and enjoy some sun and sand.
Whether you are staying at a beachfront hotel or walking to the beach, you can find a spot to relax. 
2. Take a Surf Lesson
Hawaii is the modern home for surfing, and there is no better place to learn to surf or experience surfing than on Waikiki Beach.
Legendary surfer and Olympic gold medal swimmer, Duke Kahanamoku, famously surfed in Waikiki and taught others how to do so.
You can get a picture with Duke's famous statue on Kalakaua and ride the waves like he taught so many to do. You can feel the spirit of Duke today through the Waikiki Beach Boys, who teach newbies to surf the waters.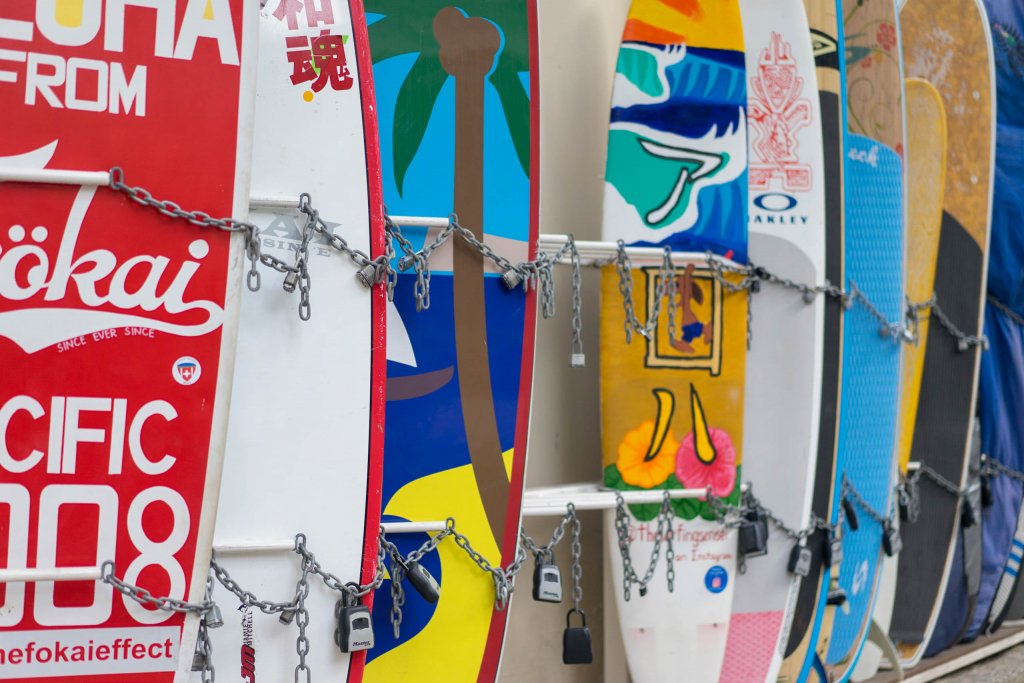 3. Shopping on Kalakaua
Waikiki is home to some of the premier labels and shops in the world.
If you are looking for high-end sales, you can buy a Rolex, Cartier diamonds, or even a Tesla all in Waikiki.
Don't worry, there are also affordable stores like Forever 21 and Ross!
The main shopping street in Waikiki is Kalakaua Avenue and it is a shopper's delight. The Royal Hawaiian Center and the International Market Place are two malls located right on Kalakaua and worth the stop to check out the stores. 
Definitely stop by the Honolulu Cookie Company. They make unique shortbread cookies in the shape of pineapples in many flavors. Honolulu Cookies are a great gift to take home with you for friends and family. 
4. Drink a Mai Tai on the Beach
The Mai Tai has become a popular drink of choice in Hawaii.
There are many great spots to get a Mai Tai and some music, or a sunset view, in Waikiki.
For a more luxurious experience, pop into House Without a Key at the Hale Kulani 2190 Kalia Rd. House Without a Key also has nightly Hula and/or Hawaiian music shows on their beautiful lanai. (As of 6/16/21 House Without a Key is temporarily closed until further notice)
For a casual beach bar, try The Barefoot Bar at Hale Koa 2055 Kalia Rd. 
Mai Tais  at The Royal Hawaiian is another great choice with a beach walk-up bar. 2259 Kalakaua Ave.
5. Enjoy Some Delicious Food 
The culinary scene in Waikiki combines flavors from around the world.
There is something for everybody to enjoy.
To truly get a taste of local cuisine, I recommend grabbing a spam musubi from a 7-11, getting a poke bowl, or plate lunch. Lulu's 2586 Kalakaua Ave and Teddy's Bigger Burgers 136 Kapahulu are great stops for lunch and casual fare.
Steakhouse Dinner Recommendations:
For a high-end, elegant steakhouse dinner, my recommendation is Hy's 2440 Kuhio.
With wood paneling decor and carts that make salads and desserts tableside, this has the old-school feel of traditional steakhouses. Unlike other restaurants in Waikiki, Hy's has a dress code and does require collared shirts and shoes (no slippers), for men. 
Seafood
Roys is a Waikiki institution and offers an array of fresh seafood, mixed with traditional favorites.
A meal at Roys does not disappoint.
In the words of Roys, they offer "Hawaii inspired Euro-Asian cuisine" with a menu that reflects the diversity of patrons and tastes that the restaurant serves in the community 226 Lewers St.
6. Friday Fireworks 
At 7:45 on Fridays, and sometimes a bit later in the summertime, you will hear the crackle of fireworks over Waikiki. They are coming from the weekly display at the Hilton Hawaiian Village. Grab a seat on the beach, a high lanai, or a sunset sail to catch the show. 
While the fireworks were paused for almost 2 years during the pandemic, they are back now in 2022!
7. Go Sailing 
Walking down the beach of Waikiki, you will pass many boats anchored ashore and see these same boats sailing around the waters.
There are a ton of opportunities to go out on a sail in Waikiki, which is a lot of fun.
From sunset sails to snorkels to booze cruises, there's a boat for everything.
Check out the Manu Kai for snorkeling or a sunset sail.
The Na Hoku II is a fun, more booze cruise-like time with dancing music and an open bar with admission.
8. Check Out the Zoo or Aquarium
The Honolulu Zoo 151 Kapahulu and Aquarium 2777 Kalakaua are on the far Diamond Head side of Waikiki and are great places to take the kids or leave the beach strip for a day. 
9. Enjoy the Nightlife 
While Waikiki was once a town that never slept, it has taken a step back during pandemic times.
If you want to enjoy the nightlife, here are some suggestions: 
Sky Nightclub is a rooftop bar with beautiful views of the city and beach.
Kelley O'Neil's, an Irish bar famous for live music and long nights are centrally located in Waikiki. Located at 311Lewers. 
10. Watch the Sunset
The sunsets in Waikiki are magical. For the best views, walk to the beach and look west or get on board a sunset cruise. 
Waikiki is a special place filled with vibrancy from cultures both local and around the world.
If there is something you enjoy in Waikiki that didn't make the list, be sure to leave it in the comments. 
For more to do on Oahu, check out these blogs: