Some of the links in this article are "affiliate links", a link with a special tracking code. This means if you click on an affiliate link and purchase the item, we will receive a commission.
Petra, Jordan, also known as the Lost City, is one of the seven wonders of the modern world and a UNESCO world heritage site. Highly popularized by the 1989 movie Indiana Jones and The Last Crusade, the rose-colored iconic walls carved into the sandstone mountains are recognized worldwide. Petra is about a 3-hour drive from Amman, and the town outside the historical site offers a wide array of hotels, restaurants, and shops that cater to tourists. Visiting Petra is a bucket list trip for many people across the world!
For more information on Petra and the surrounding area, you can check out the Petra Tourism Board's website : Visit Petra Tourism Board.
Going to Petra was a bucket list trip and amazing experience for me. As a traveling therapist, I was able to take this trip in my break between working contracts. It was a truly a dream come true. I'm happy to share my essential tips for visiting Petra with you!
1. The History
Petra was built and initially inhabited by the Nabataean civilization possibility as early as the fifth century BC. The city was a wealthy, prosperous trade town that moved goods from India, Egypt, etc.
The city eventually fell to the Romans, was partially destroyed by an earthquake, and eventually abandoned by most inhabitants. It was later inhabited by Bedouins and formally rediscovered in 1812 by Swiss geographer Johann Ludwig Burckhardt.
2. There is A Lot of Walking Inside Petra
Let me say this again – there is a lot of walking at Petra! Petra was honestly a lot bigger than I expected it to be. It was a thrill to explore but took a toll on my feet by the end of the day. Wear comfortable footwear and clothing. At the end of one day inside Petra, my group walked 9.5 miles!
Here is a breakdown of the trails I did to hit many of the key spots in Petra:
The Main Trail: Roundtrip 8km or 5 miles
Approximately 3.5 to 4 hours
Ranked as easy
The Main Trail is a flat trail that is a mix of red sand (prepare for your shoes to get dirty) and rocks. It is easy to walk if you are in shape and takes you inside of the park, through the Siq (slot canyon), to The Treasury, down the Street of Facades, past the theater and Great Temple. It ends at the Basin Restaurant and Museum.
If you solely want to walk to The Treasury, the walk is 2.4km or 1.5 miles roundtrip.
Ad-Deir (Monastery): Roundtrip 2.5km or 1.6 miles
Approximately 2.5 to 3 hours
Ranked as hard
The Ad-Deir trail starts where the main trail ends and takes you up over 850 steps to the site of the monastery. While this trail can be brutal in the mid-day sun, it does offer some spots of shade and takes you to a far less crowded area of Petra.
If you want to skip the walking, there are camel/donkey/horse transit options available inside the site.
3. You Can Do Petra in A Day
Petra covers a large amount of space; however, it is completely possible to hit all of the highlights in a day. I would absolutely recommend starting early.
The gates open at 6 am and close at 6 pm during the summer and 4 pm during the winter. Plan to give yourself at least 8 hours if you want to make it to the monastery.
4. Hire a Tour Guide
Petra is massive and there is a lot of history and information behind each structure in the city.
I absolutely recommend hiring a tour guide.
A guide will provide you with so much insight and background on the city that you would never be able to get from just walking around. I appreciated my time in Petra immeasurably more because I got to learn so much about it from my tour guide. You can hire a guide from the visitor center near the entrance to the park.
5. Experience Petra at Night Occurs 3 Nights a Week
Petra At Night is a wonderful experience and something I would highly recommend planning your Petra trip around. Petra At Night is every Monday, Wednesday, and Thursday from 8:30 pm to 10:30 pm.
The path from the visitor center, through the Siq, to The Treasury, is illuminated with over 1500 candles during Petra At Night. When you arrive at The Treasury, you are greeted with wonderful Bedouin music and tea. You sit on the ground and listen to music in the candlelight, with The Treasury as a backdrop.
6. Bring Plenty of Cash
Inside Petra, you will find many stores and opportunities to purchase food, drink, traditional souvenirs, and local crafts. While some of the stores are more formal and accept credit cards, many are small stands which are cash only. Don't miss an opportunity to purchase something because you don't have cash.
7. You Can Easily Buy Food and Water Inside Petra
This was honestly something that surprised me. I had no idea what to expect inside Petra and I was pleasantly surprised that there was a plentiful amount of food and water available for sale inside the site.
The Bedouins that run Petra have many food stands and water stands in Petra. I had packed enough water in my bag for a day of hiking, which really weighed myself down. In reality, I could have come in with a lot less and purchased food and drink as I hiked.
8. Be Prepared For the Sun When Visiting Petra
Petra is located in the desert of Jordan, with average temperatures in the summer months being in the 80's F. The city is exposed to the sun with little to no shade as you are walking around. Be prepared for sun exposure with sunscreen, a hat, sunglasses, water, and appropriate clothes.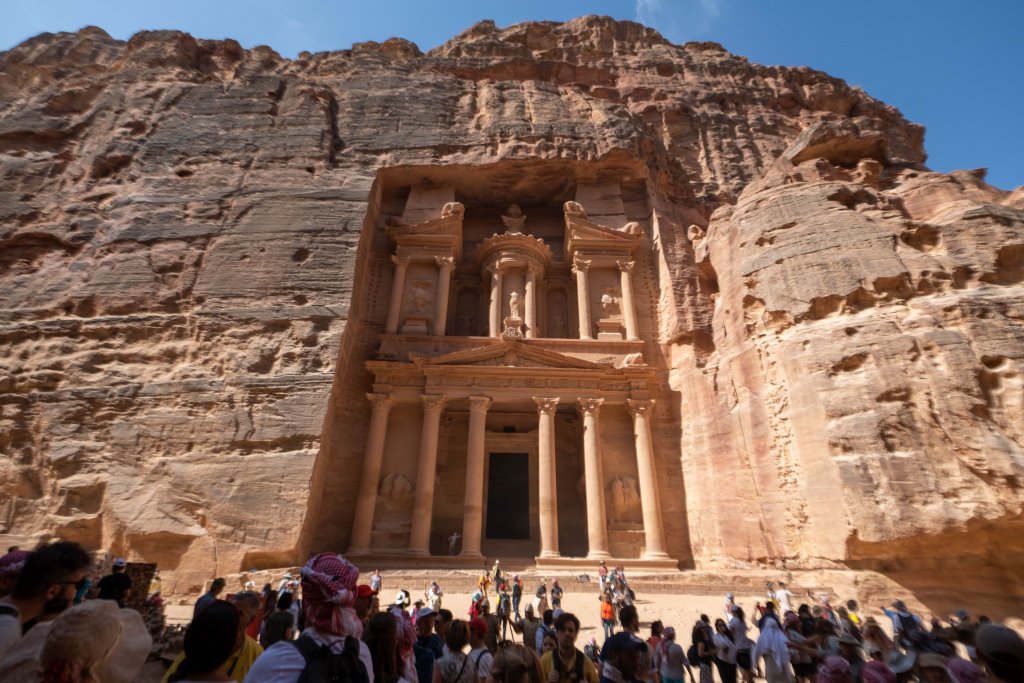 9. There Are Crowds
Expect there to be crowds of people at Petra, especially at The Treasury, which is the site made famous by Indiana Jones, and the first big stop on the Petra tour.
To avoid maximum amounts of people, you can arrive early, and/or plan to stay late. When my group arrived inside at around 9 am, there were masses and masses of people. When we left at around 5 pm, the crowds had thinned, and we were able to get some more unobstructed views.
10. Walk 800 Stairs To The Monastery: An Epic View
As I mentioned above, the Ad-Deir trail begins where the main trail ends, about 2 miles into the city. It takes you up over 850 steps to the monastery. If you are physically able, definitely don't skip this trail.
While it is hot and exposed to the sun, it takes you to an epic view with far fewer crowds.
Along the way, there are plenty of spaces to stop and rest, if needed.
You can also stop at many small shops to buy drinks or a snack. At the top, there is a small cafe where you can sit and eat in the shade.
The Monastery itself is completely jaw-dropping and worth the climb to the top. Again, remember to wear comfortable shoes and appropriate sun protection if you plan to do the Ad-Deir hike.
Visiting Petra was an amazing once in a lifetime experience. I'm happy to share my tips and advice with all of you! Please feel free to comment with any questions or advice you have for visiting Petra!
Related Blogs: