Some of the links in this article are "affiliate links", a link with a special tracking code. This means if you click on an affiliate link and purchase the item, we will receive a commission.
You want to be a traveling therapist but you don't know how to find a travel therapy job. Well, you came to the right place to learn. I'm going to be breaking down the most popular ways to find travel therapy jobs in the United States.
Find a travel therapy job through a recruiter
Traditionally, if you wanted a travel therapy job, you had to establish a relationship with a recruiter who would call you about available jobs. Now, technology has evolved so that you really don't need that traditional recruiter relationship to find a job. However, finding a job through a recruiter is still a great option for a lot of travelers.
Using a recruiter only to find a job takes a lot of communication. You as the traveler need to communicate with your recruiter what you are looking for and what they should alert you about. Your recruiter needs to be able to communicate with you when those jobs open up.
This can have a lot of back and forth and missed calls, especially if you are in different time zones or working clinically on weekdays (as most of us do).
While it might seem like using a recruiter to find a job could be old school, there are advantages. Primarily, you might be able to apply for jobs before anybody else, which can help you secure a placement. Recruiters may have access to see jobs before they get processed to go on job boards, and it's their job to be constantly looking for something for you. So, a recruiter may be able to alert you of your dream job faster than technology.
Through Job boards or apps
Advancing technology has benefited the way to find travel jobs immensely. Job boards are places that aggregate jobs from multiple agencies. They have search features that let you search by specialty, location, money, state, etc. Job boards can help you search, sort, and find jobs that you want. Most importantly, they have pay listed, which helps pay transparency across the industry.
The nice thing about job boards is that you don't constantly have to be checking them for jobs. Most of them have notification settings which you can personalize to message you about job opportunities.
A potential flaw in using job boards is that the listings might not be up to date. However, the examples that I have listed below are ones that I found to have very current listings and good technology to manage listings.
Some examples of job boards: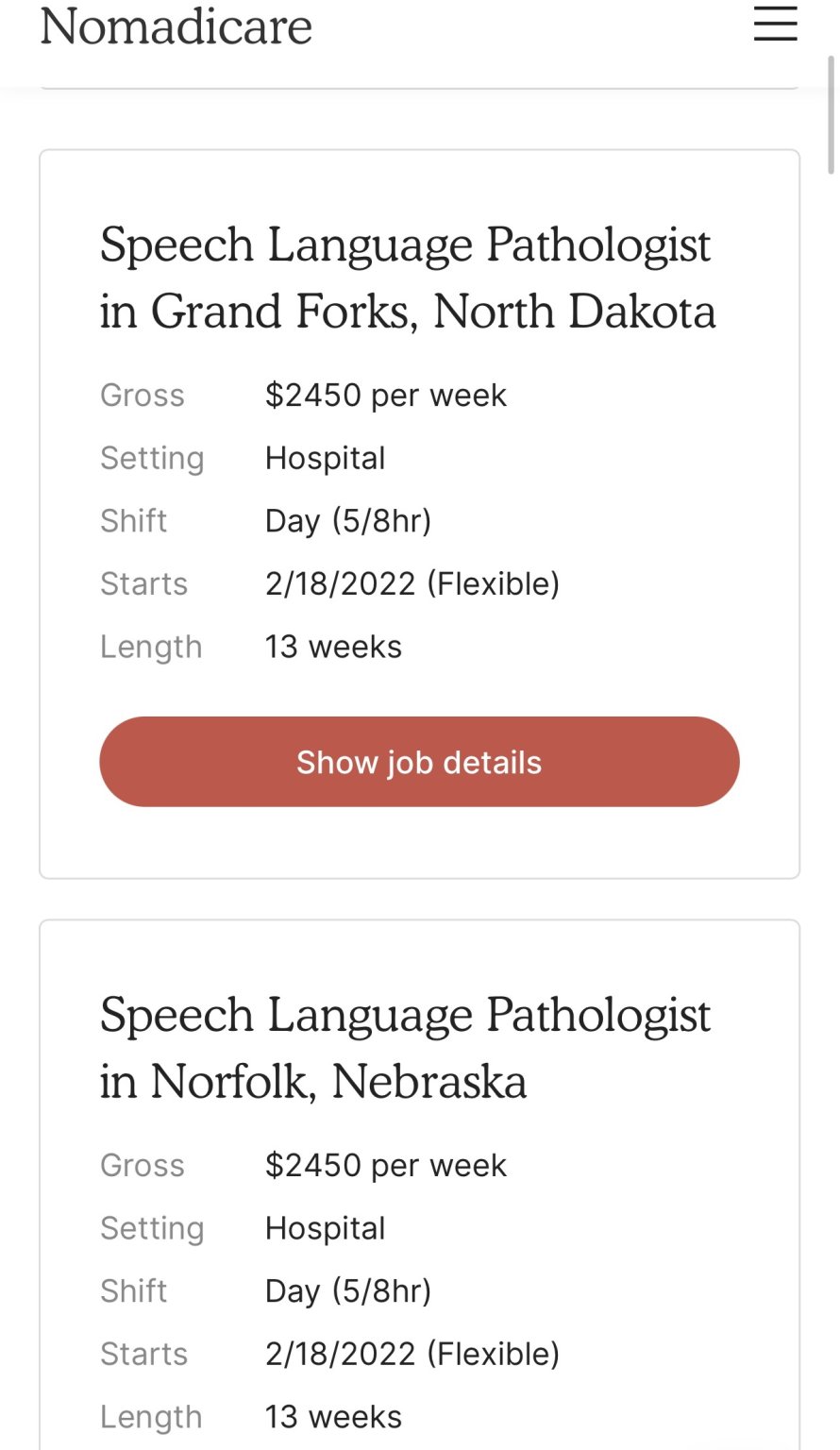 Agency Apps
Your agency might have their own app or job board that has their job listings on it. For example, AMN Passport app is a job board, but for only AMN (MedTravelers and ClubStaffing) jobs. When you select a job you are interested in, your recruiter gets notified to contact you about the position.
Social Media Posts (Agency or Recruiter)
Social media is filled with posts to get your attention. It's the place where agencies and recruiters tend to post their flashiest, hottest jobs.
Social media posts (Instagram, LinkedIn, Facebook, TikTok) can be a great way to find out about job opportunities. However, it places a lot of work on you to dig through the posts to find what you are looking for. And, if you do find a job that interests you, it can be harder to communicate directly about the job on the platform itself. Generally you will need to get off of the app to fill out a skills checklist with an agency and go from there.
My personal experience with social media and job hunting is that I like to scan social posts to see the trending job market, but not so much to actually seek out a new opportunity.
Networking
Did you know you can use your own network to find travel therapy jobs? As you travel places and your network grows, often therapists or clinics might try to fill positions through word of mouth or referrals.
In fact, I've worked at several places that reach out to me when they need a traveler to see if I know anybody who might be interested in the position. They will then interview the candidate and go forward with placing them through an agency if they are a good fit.
But networking doesn't have to be somebody reaching out to you, you can reach out and network. You can contact old coworkers, facilities, and connect with places you are interested in working to see if they have any needs.
The benefit to networking to find a job is that you might have a better connection with the facility and understand what the job would be like. However, the major downside is that you are putting in the work yourself to find a position. In some cases this could be totally passive, e.g. a manager texting me and asking if I want a job barely took any work on my part. Although, if you are doing the work yourself, it can be cumbersome and agencies don't reimburse you for your time, unless you are bringing them a new client that they might do a future contract with as well.
To wrap up up to find travel therapy jobs
Finding a travel therapy job should not be difficult. Whether it's through a recruiter, networking, or technology, there are many ways to seek out a position that is perfect for you. Technology is definitely making the process a lot easier, transparent, and straight forward. If you have questions about how to find travel therapy jobs please leave them in the comments.