Some of the links in this article are "affiliate links", a link with a special tracking code. This means if you click on an affiliate link and purchase the item, we will receive a commission.
When I moved to Hawaii, I was concerned about getting enough continuing education unit (CEU) courses to maintain all of my state licenses, some of which require live CEUs.
As beautiful as Hawaii is, it is hard to get speech courses to come here. As I write this blog only eight months after moving to paradise, I already completed six hours of live SLP CEUs and several self-study courses – all from my sofa!
How is that possible?
I have a subscription to MedBridge Education, which has access to unlimited self-study SLP CEUs, as well as a selection of live webinars each month. In this piece, I'm sharing some of the benefits of MedBridge Education and why it's been a great addition to my clinical practice. Definitely check out the video below to learn more about MedBridge from a visual perspective!
High-Quality SLP CEUs Online Courses
MedBridge has high-quality SLP CEUs from some of the top speakers in the SLP profession. They are consistently updating their courses with new and relevant classes. My favorite part of being a MedBridge subscriber is that I have on-demand access to such a wide variety of courses.
There are days when I come home from work and take a course on MedBridge to help me better understand a patient I saw during the day. Or, to help me learn and plan better for an upcoming patient or assignment. MedBridge gives me the option to take classes that matter to me and make a difference in my clinical life. I'm not just taking classes to take classes, but I'm taking them to apply to my clinical life.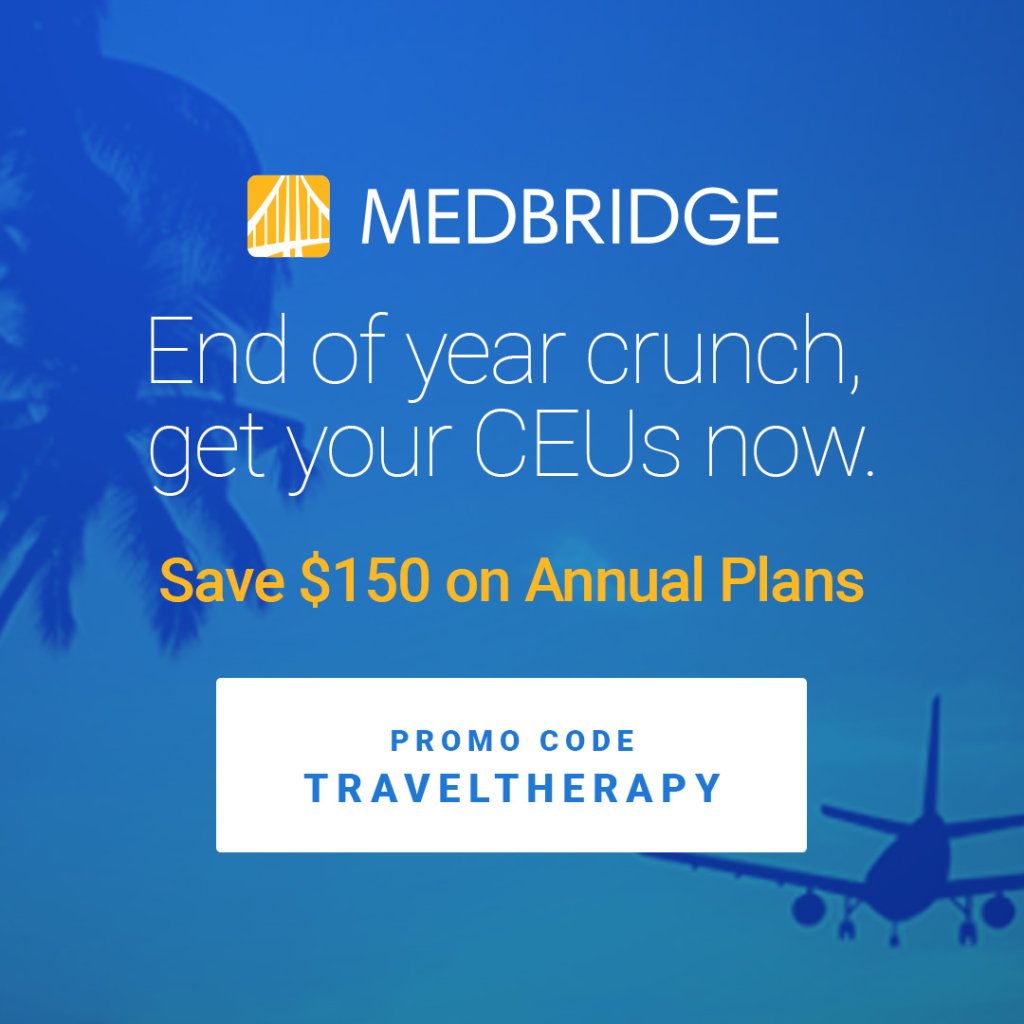 Examples of courses include:
Dr. Ianessa Humbert has a course on understanding the normal and disordered swallow in adults
Dr. Catriona M. Steele has courses on videofluoroscopy and dysphagia therapy
Dr. Joseph Stemple has classes on vocal function exercises
Teepa Snow MS OTR/L FAOTA has a great series on understanding and working with patients with dementia
Live Courses
There are several states that require CEUs to be completed in the live format. As a traveler or somebody who lives far from metro areas, this can be a particular challenge.
I am thrilled that MedBridge offers multiple hours of live CEUs a month. The live webinars tend to be longer in length (the average that I attended has been three hours) and are more reflective of a regular live course. They are interactive and you can ask the presenter questions.
Many of the live courses are multi-disciplinary, which is interesting and a great learning experience as well. Hearing presenters that are OTs and PTs can help me gain a larger sense of what I need to know when working with patients. It's hard to predict how many live courses MedBridge offers a month. Sometimes they offer one 3-hour webinar a month. Other times, it is more.
Examples of live courses that I have taken:
A Clinical Guide to Enhance Learning in People with Alzheimer's Disease (PwAD)
The Proposed Patient-Driven Payment Model (PDPM): What Does It Mean for Skilled Nursing Facilities?
Dual-Task Training in Stroke Rehabilitation: Recovering Automaticity in Gait, ADL, Swallow, and Other Procedural Memories
Non-Prescribing Clinicians: What is Our Role in Helping Curb the Opioid Epidemic?
Compliance Courses
Beginning in January of 2020, ASHA requires that one hour of the 30 hours of required continuing education credits must be in an ethics course. Many states individually require specific courses for renewal, such as courses on reporting abuse. These courses can add up when individually purchased. MedBridge offers a variety of compliance and regulatory courses.
Records Certificates And Reports CEUs To ASHA CE Registry
As a less than organized person, I find comfort in knowing where something is and where to find it. It's reassuring to know that MedBridge keeps all of my completed course certificates in my account and I can view and download them as needed. Therefore, you'll never lose another course completion certificate again! MedBridge also reports CEUs to the ASHA CE Registry quarterly. Thus, if you subscribe to the CE Registry, you can have your continuing ed credits reported directly to them from MedBridge and you don't have to worry about a thing!
Patient Engagement and Home Exercise Program
All of the items that I mentioned above are available in both the educational and premium MedBridge subscription plans. If you choose to upgrade your plan to the premium plan, you will have access to patient engagement, patient education, and home exercise materials. For SLPs, they have swallowing home exercise programs and dysphagia literature that you can print, email, or text to your patients. There are also videos showing a normal modified barium swallow study, which can be helpful for patient education.
If you have any questions about MedBridge, please don't hesitate to contact me here. You can sign up for MedBridge directly with my promotional discount at this MedBridge link or using promo code TRAVELTHERAPY https://medbridgeeducation.com/travel-therapy